Since the beginning of the year, I've been looking for healthier options to fit in better with my new plan to eat healthy and lose weight. One of my downfalls this past year has been frequenting Starbucks for coffee and treats. Not only is it not healthy to eat and drink there on a regular basis, but it also gets quite pricey too. On average a coffee or frappuccino costs about $4 a cup at Starbucks. I usually try to "be good" and only get a tall size and as low calorie as possible, but it still adds up in both calories and money. I thought maybe it was time to find a way to create a treat for myself where I didn't have to feel guilty and I wouldn't be spending a ton of extra money each week. You don't notice at $4 here and $4 there, but at the end of the month you then realize how much you could have saved.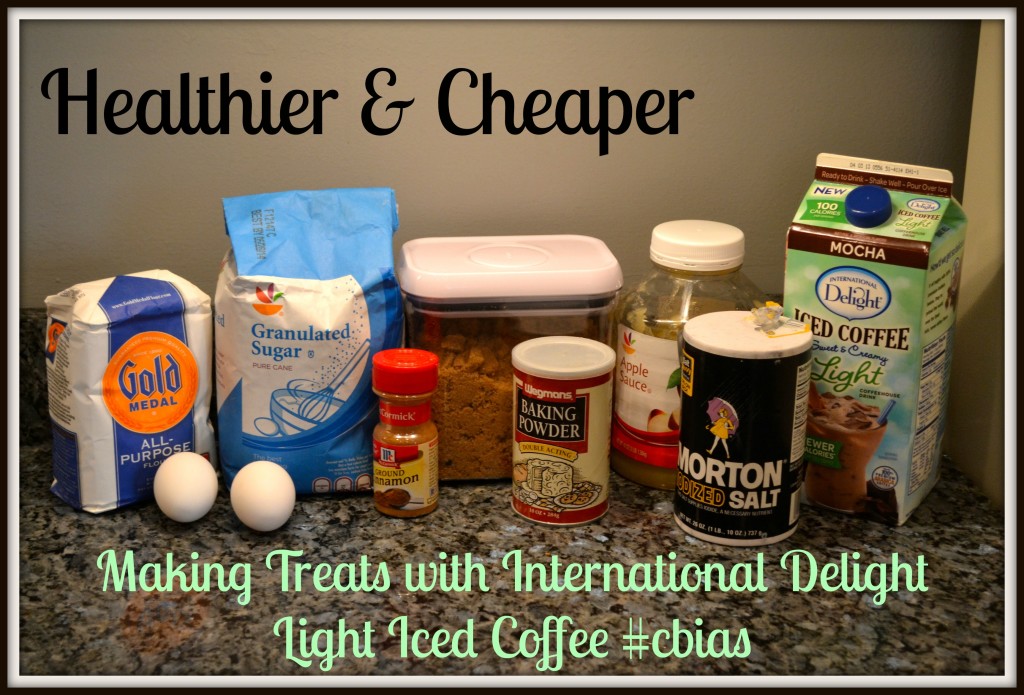 My son and I went to Walmart to find the International Delight Iced Coffee that I had been reading about on other websites. I thought I could possibly make my own treats and frappuccino type drinks with it, and at 100 calories per serving it would fit into my diet. It was very easy to find International Delight in the dairy section at Walmart. I also decided on a low fat coffee cake to make with the Iced Coffee as well, and I happened to have all the ingredients at home that I needed.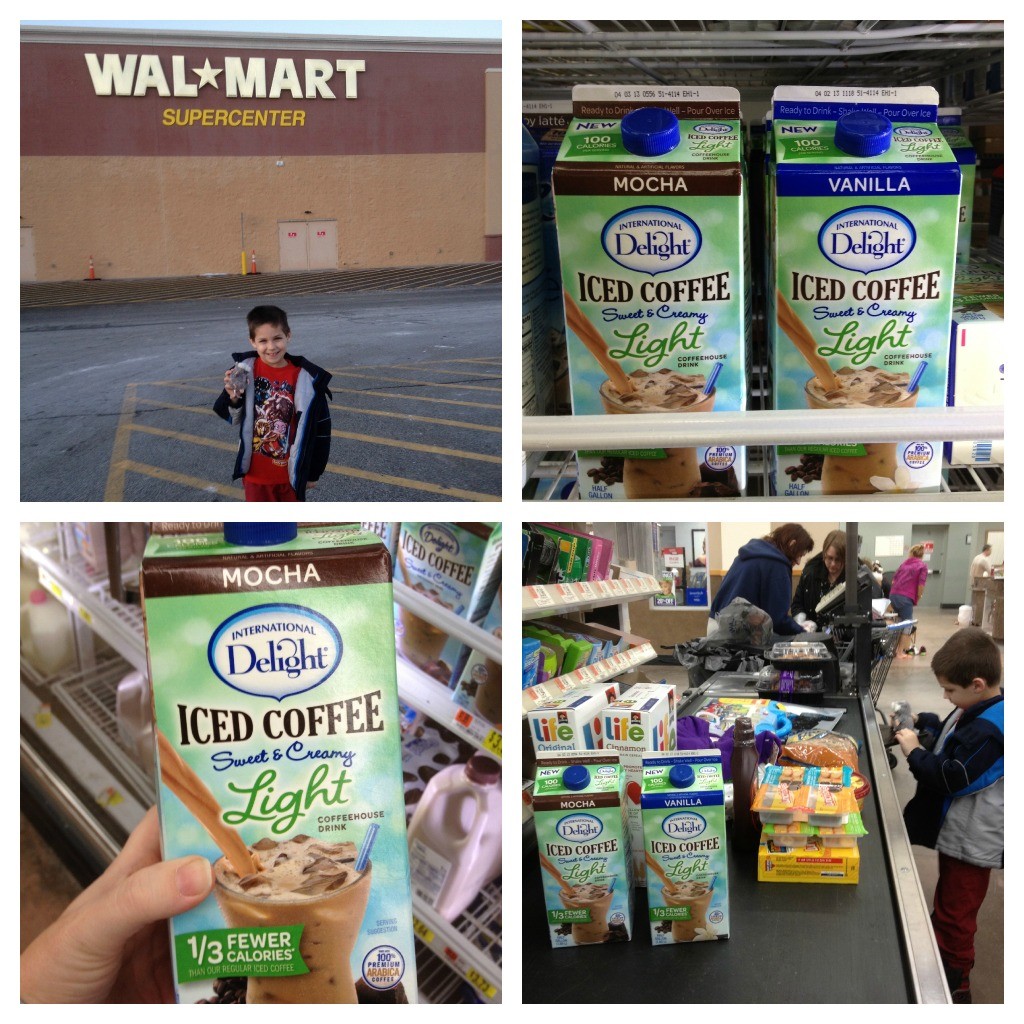 Now to create the healthier and cheaper options for treats with International Delight Iced Coffee! I'm sure everyone loves to save on calories and costs, and especially if you can create a treat just as yummy!
Surprisingly, I loved the International Delight Iced Coffee on it's own just over ice! I am a girl that loves frozen concoctions, but I could just as easily drink it over ice and be happy. It is so creamy and delicious! And like I said, it is only 100 calories per serving. I did decide to try and make a frozen frappuccino type drink, and it was super easy and super tasty! All I had to do was add ice in a blender, pour in the International Delight Iced Coffee, and blend! I also added some Hershey's syrup to the inside of the glass (just a little) for that more "Coffee House Effect."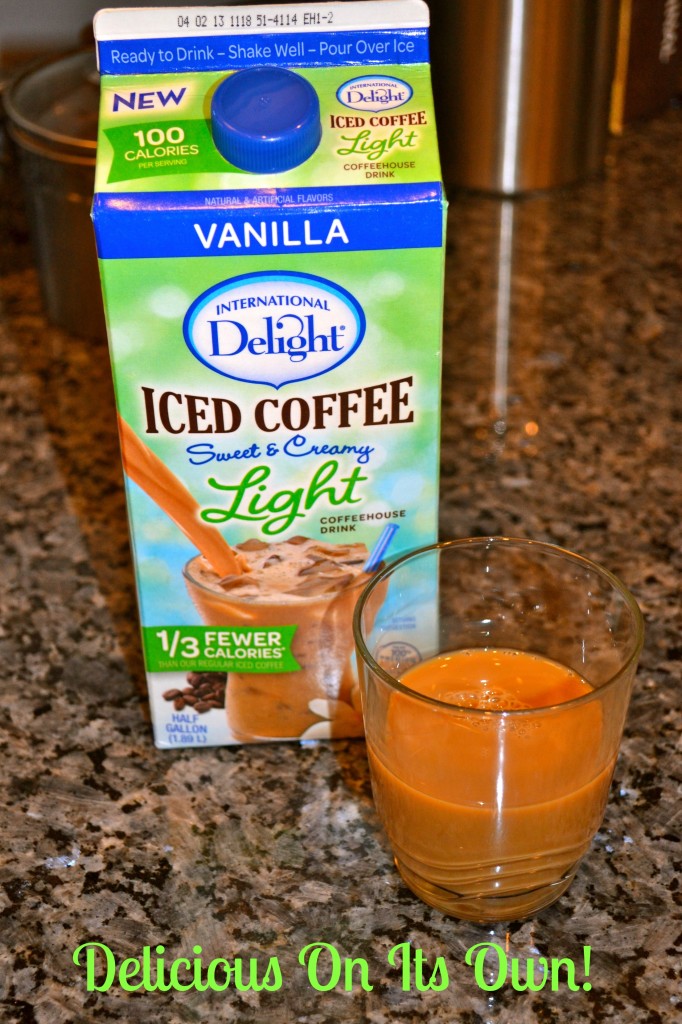 Or as a frozen drink too…….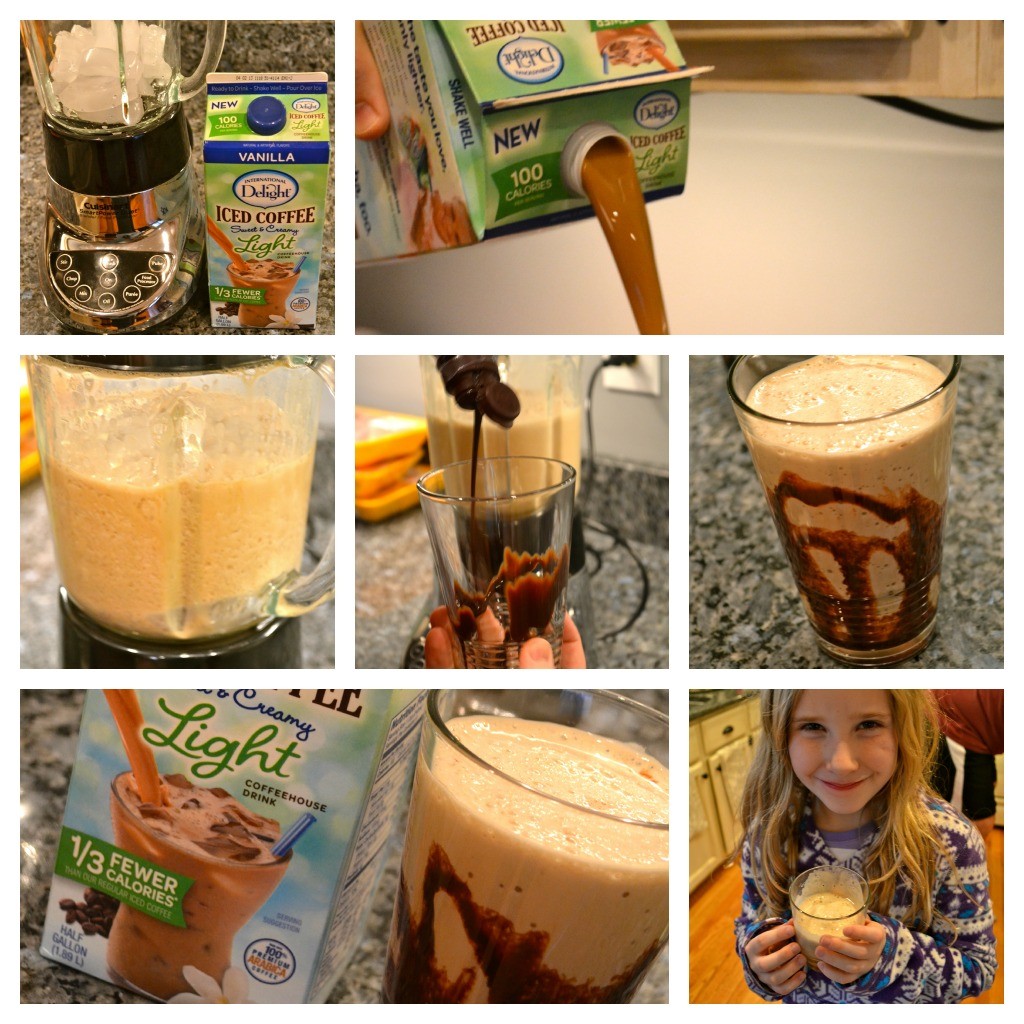 And instead of purchasing a treat to go with your coffee, you can make a low-fat version for a fraction of the price! Here is my recipe below for an International Delight Light Low-Fat Iced Coffee Cake! The perfect pairing with your International Delight Iced Coffee Frozen Concoction! It was so easy to make, and it was delicious! I served it to my family and they loved the flavor and consistency of the coffee cake. I thought it would be crumbly, but it was a more firm and spongy consistency.
International Delight Light Low-Fat Iced Coffee Cake
Prep time:
Cook time:
Total time:
This is my low-fat version of a coffee cake made with International Delight Iced Coffee!
Ingredients
Cake:
1-1/2 cups all-purpose flour
¾ cup sugar
2 teaspoons baking powder
½ teaspoon salt
¼ cup applesauce
2 egg whites
½ cup International Delight Iced Coffee ~ Mocha Flavor
TOPPING:
⅓ cup packed brown sugar
¼ cup sugar
2 teaspoons ground cinnamon
Instructions
In a medium bowl, add flour, sugar, baking powder and salt and mix.
In another bowl, beat egg whites, applesauce and milk together.
Add to dry ingredients and wet together and stir.
Pour into a 9-inch square baking pan.
Coat it with cooking spray.
Combine topping ingredients and sprinkle over the batter.
Bake at 375° for 28 minutes.
* If desired you can add nutmeg or other spices to taste.
Nutrition Information
Serving size:
1
Calories:
154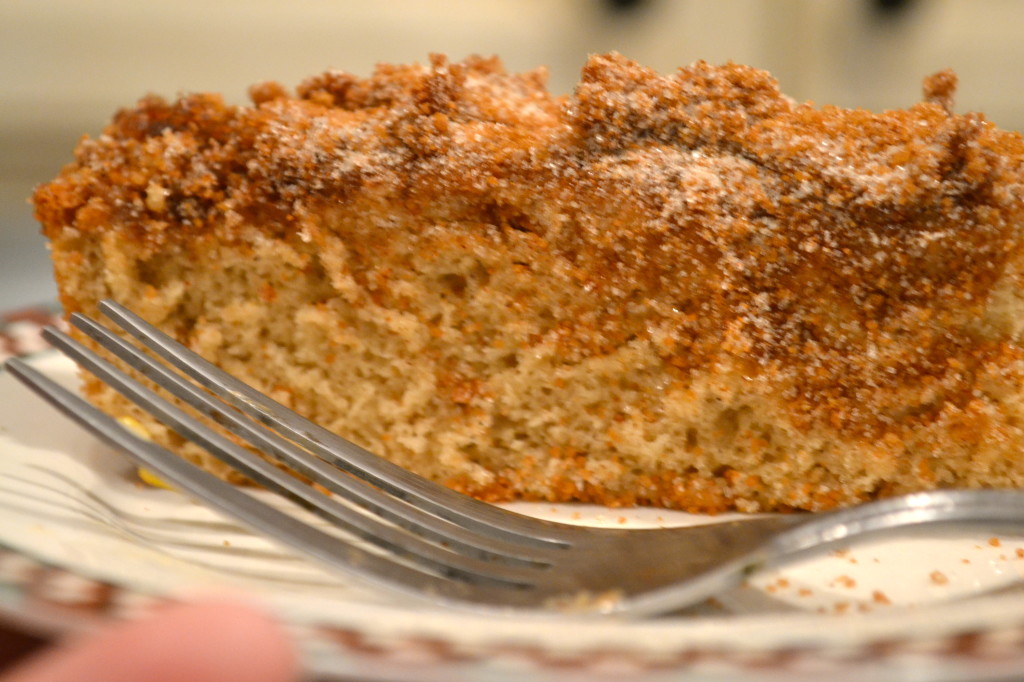 And like I said, it was super easy to make! See us making it below!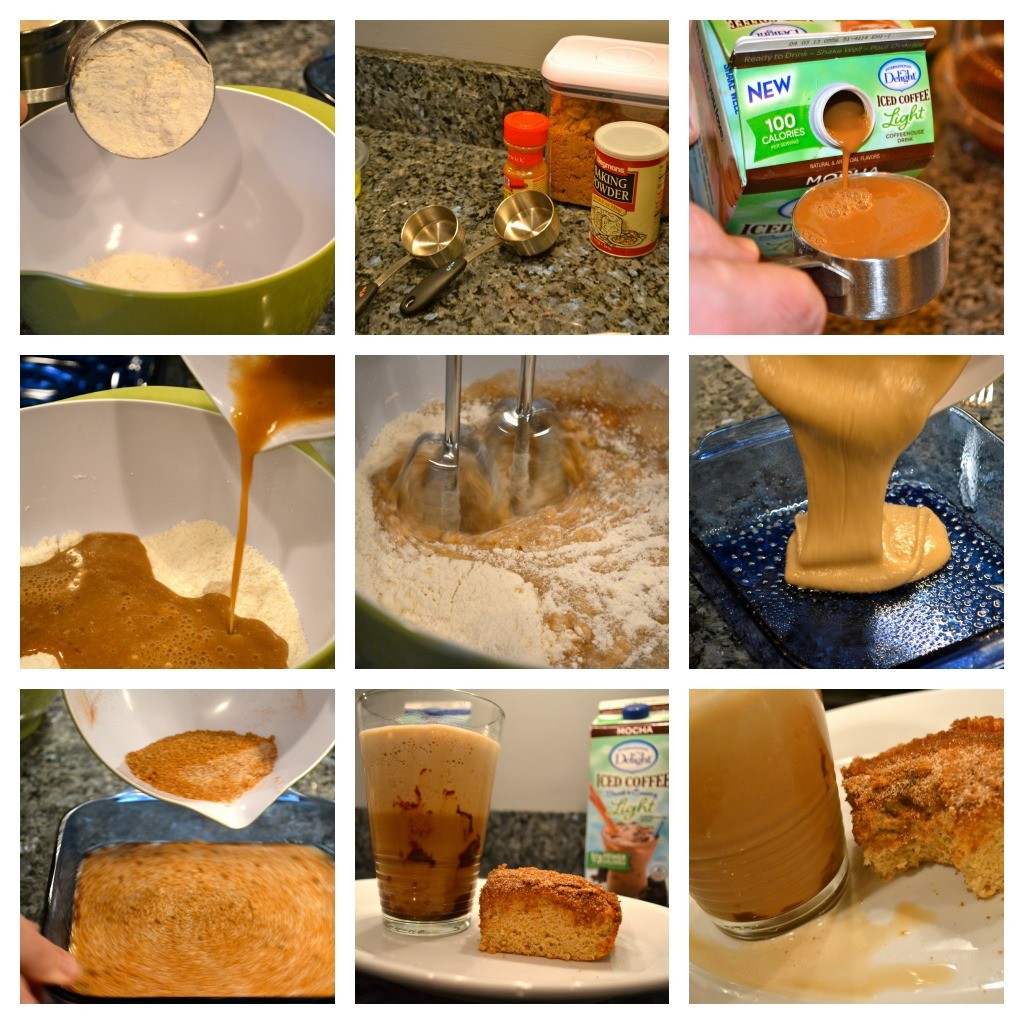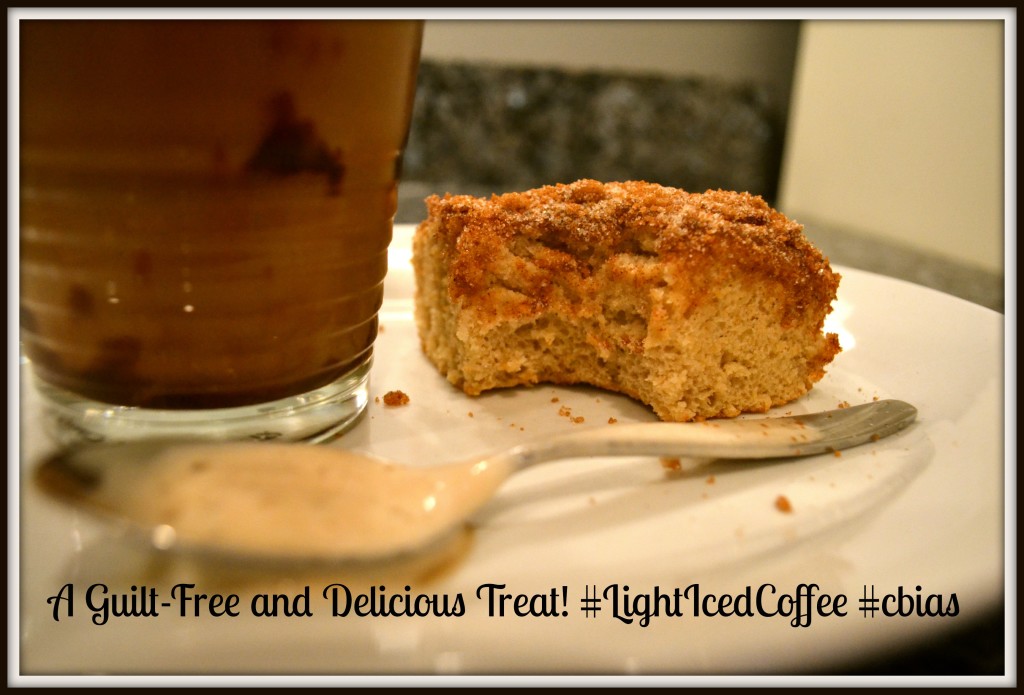 If you're ready to save some calories and some money, make sure to check out the International Delight Iced Coffee! Both the Mocha and Vanilla versions are delicious. I used the mocha flavor in the low-fat coffee cake and the vanilla flavor in the frozen coffee drink. Check out the widget on my sidebar as well. You can check back each day to see how much money I am saving by making the switch from Starbucks to my own kitchen! I also love that I am eating healthier as well!
To view my entire shopping trip at Walmart with my son, just check out my Google+ Album. Also, make sure to visit International Delight on Facebook and Twitter. You can also sign-up for the International Delight community to receive coupons on their products.
I am a member of the Collective Bias®  Social Fabric® Community.  This shop has been compensated as part of a social shopper insights study for Collective Bias®  and WhiteWave #CBias #SocialFabric. All opinions are mine and mine alone.