Most of you know I am an educator and have my Master's in Education, so finding technology products and apps that are educational are very important to me and my family. I have raved about the LeapFrog products we have used in the past, like the LeapPad2, the LeapsterGS, the Tag reading system, and many apps as well. All products and apps that I've come across from LeapFrog have been highly educational in value and fun for my kids. I was even lucky enough to interview Dr. Jody Sherman LeVos, the math and science development expert of LeapFrog's Learning Team. Speaking with her just reinforced for me the beliefs I had about LeapFrog creating quality educational products.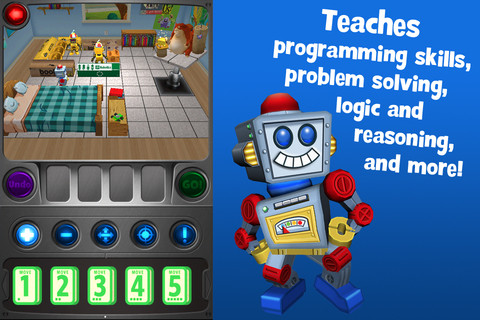 The latest app my kids and I have come across from LeapFrog is the MyRobot Friend iOS App! This is app is AWESOME! It is so fun in fact, that my kids don't even realize they are learning something new. It helps kids with math and programing skills. Kids have to think logically about which way the robot will go to get to the end of the maze. They need to sequence the moves correctly (or else the robot will crash), and positive and negative moves are both used, which teaches the kids about positive and negative numbers. I had to guide them a little at first, but once they understood what I was doing with using the positive and negative moves and changing the robot's position (front and back), they picked up very quickly how to use the game on their own. They learn logic and reasoning skills to expand their knowledge base by playing this game. These skills will come in handy in the future, as many tests involve logic problems.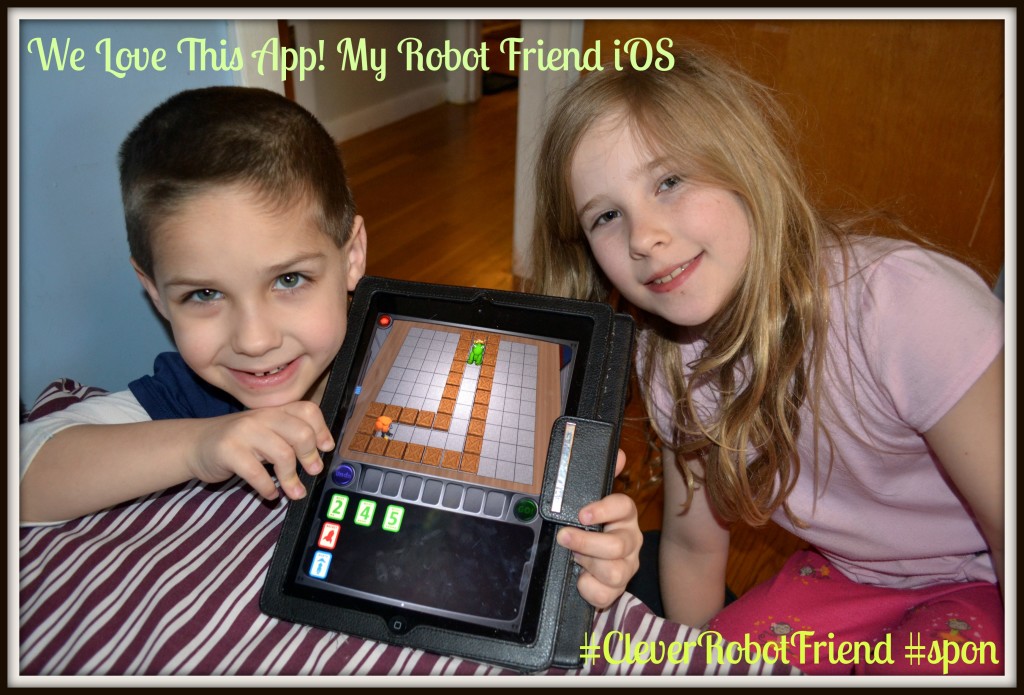 There are also a few other fun things that this app can do. My kids like programing their robot friend to dance with sequencing the moves and set it to music. This app has many levels and keeps the kids very interested for long periods of time. Most technology should only be used by kids about two hours per day. That's for kids in the age range I have, ages 5 and 8. Some children at even younger ages should use it even less. It is nice for me to know that their "technology time" is being used more productively and educationally, and the kids just think they are playing for fun and earning coins as they outsmart Fat Cat! You have to love that, right? I highly recommend getting this app for your kids!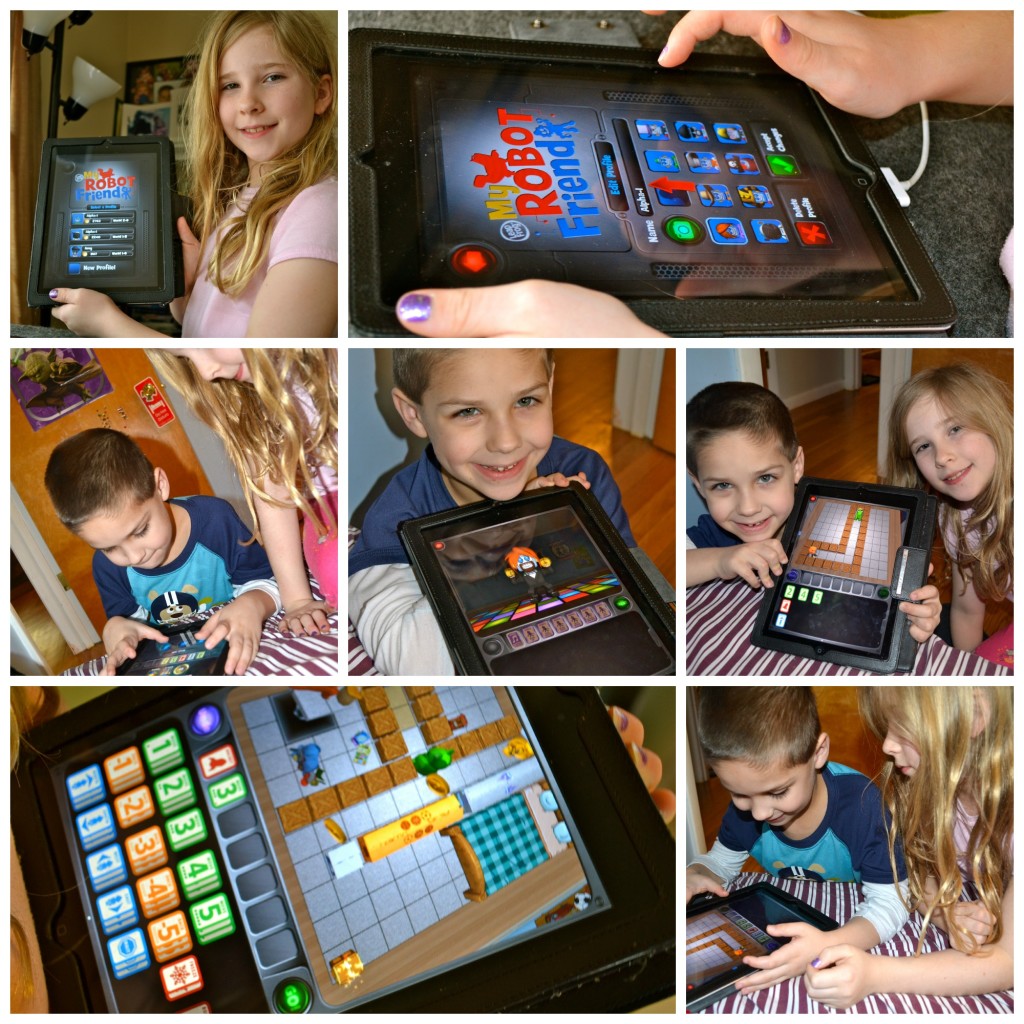 Information About the App (from the iTunes Page):
SUPPORTS iOS 5.0 OR LATER, CONTENT IS ALL-INCLUSIVE FOR ONE LOW PRICE, NO IN-APP PURCHASING REQUIRED
Test your problem-solving skills to defeat your arch nemesis, Fat Cat!
Personalize Alpha-1 with over 180 costumes and voices! Have fun with millions of costume variations!
Take control of your robot friend, Alpha-1, using logic, puzzle solving and math skills. Use you arsenal of shrink rays, invisibility cloaks, shields, propeller packs and a whole lot more as you program your way through 80 mind-teasing levels. Program a sequence of instructions for your robot to follow, and earn all 3 ribbons per level by creating efficient programs and collecting all the coins.
There's just one catch: Your arch nemesis Fat Cat will try to thwart your every move! (Oh no!)
My Robot Friend has power-ups to boost Alpha-1's abilities and 80 exciting levels to unlock secret content. With every accomplishment, you'll earn coins to redeem for crazy clothes, wacky wigs and out-of-this world accessories to customize your robot.
In addition to the main story, you can play 3 mini games. Dance Party lets you choose from 8 tracks and 24 moves to get Alpha-1 into the groove. Spelling Bee challenges you to spell words at 3 different difficulty levels. And Save the Monkey puts your programming skills to the test as you race against the clock to collect monkeys.
Features
• 80 levels of story-driven gameplay
• 3 mini games including: Dance Party, Spelling Bee and Save the Monkey
• Unlock secret content
• Earn coins, ribbons and rewards
• Customize your robot with OVER 180 PIECES OF CONTENT like crazy clothes, wacky wigs and more!
• Earn over 30 game achievements
Teaches:
1) Problem-solving
2) Logic and reasoning
3) Programming skills
4) Sequencing
5) Mathematics
6) Spelling
My Robot Friend YouTube Trailer:

Discover how LeapFrog ignites learning through the power of play. Visit leapfrog.com!
I was selected for this opportunity by Clever Girls Collective but content and opinions expressed here are all my own. To learn more about the app, visit here #CleverRobotFriend #spon