What do you think about when you think of Green Giant? I know I personally think of healthy vegetables, like green beans, broccoli, and peas. The Green Giant veggies usually make for easy, convenient side dishes to your meals. Well, here goes the surprise…….Green Giant is now making chips! Yes, you heard me right! Chips! Delicious and tasty chips at that. These are the New Green Giant Veggie Chips! What a dream for snackers to be able to enjoy nice crunchy chips they can feel good about! Let me tell you how fabulous these chips are, because they are truly delicious! I am not a blogger that just says "I love everything!" because I'm just not. If I am telling you I LOVE something, then I really do! And these chips my whole family loves!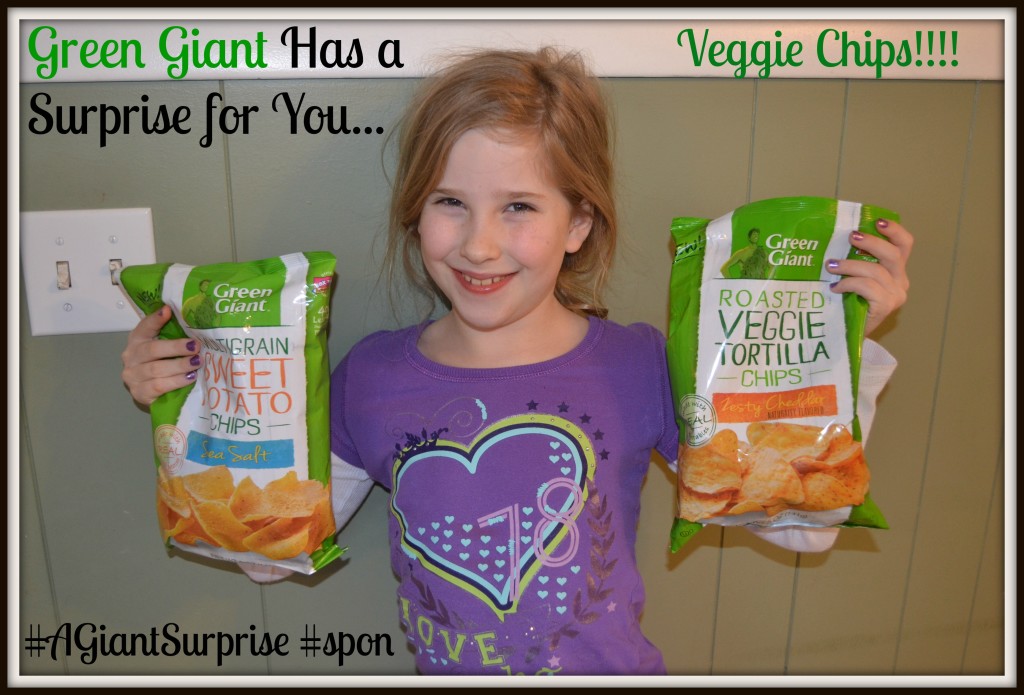 Why do I love these you might ask? They are so tasty and made by my favorite and trusty company that I buy my vegetables from! Make sure to check out Green Giant on Facebook and YouTube! Green Giant has revealed their unexpected talent of creating the new Green Giant™ Veggie Snack Chips. Now they want to see what surprise talents YOU might have! Just make a video and upload it to be featured on their YouTube channel! How cool is that? See all the talents HERE that Green Giant has unearthed! Make sure to SHARE your surprise talent with Green Giant too! 
My daughter wanted us to make a little video about her surprise talents. I always thought it was quite loud in her room when she's getting ready for bed. I didn't know it was a gymnasium in there! Check her out below, and then see how she reacts to Green Giant's BIG SURPRISE!
Product Information ~ So You Know the Facts!
The Green Giant™ Roasted Veggie Tortilla Chips – Zesty Cheddar Flavor are made with real vegetables, 17 grams of whole grain per serving (48g are recommended daily), and are naturally flavored.

The Green Giant™ Multigrain Sweet Potato Chips – Sea Salt Flavor are made with real sweet potatoes and made with 14 grams of whole grain. Plus, they contains 40 percent less fat than regular potato chips*!

*Green Giant Multigrain Sweet Potato Chips (6g per 28g serving) have 40 percent less fat than regular potato chips (10g per 28g serving).
Go out and find some Green Giant™ Veggie Chips TODAY!!! Click HERE for a printable coupon!

 Thank you to The Green Giant™ for being a sponsor. Show the Giant your surprise talent at www.facebook.com/greengiant