Most of you know that I was a teacher for eight years, but what you might not know is that I was privileged enough to be able to travel to Japan twice for teaching experiences. The first trip I took was a three week stay with the Fulbright Memorial Fund Teacher's Program. It was an amazing experience. I traveled with 200 teachers from the United States to Japan for an educational journey to learn about their culture and academic system. I stayed in Toyko and Tendo City. The second trip I took to Japan was a few years later with Hitachi. It was a trip for five educators, and it was such an individualized and wonderful opportunity. I learned so many things about Japan from these two trips. One of my favorite experiences from both trips was participating in the traditional Japanese tea ceremonies. I always felt a sense of peace and serenity from participating in these rituals. The tea ceremony was influenced by people who practiced Zen Buddhism. The atmosphere of the tea ceremony has a quiet, organized, and introspective feel. You really focus on the tea, the motions during the ceremony, and find a mental peace.
When I got back to the States, I wanted to find an authentic tasting green tea to remind me of these wonderful ceremonies that made me feel more centered and inspired. After trying many different brands, I really fell in love with the authentic Bigelow Green Tea. It tasted most like the teas I had in Japan than any other. The smell and flavor of the tea is amazing, and it really brings me back mentally to my time at the ceremonies. I also influenced my husband with drinking green tea as well after returning from my trips. He loved it and has been drinking green tea two to three times daily ever since. He drinks the green tea for the power of the antioxidants and other health benefits. He swears it keeps him healthy and will increase his life expectancy. Doctors have made links to show the benefits of green tea in your diet; some of these include:
Fighting Cancer

Preventing Heart Disease

Lowering Cholestrol

Burning Fat

Preventing Diabetes

Preventing Stroke

Staving Off Dementia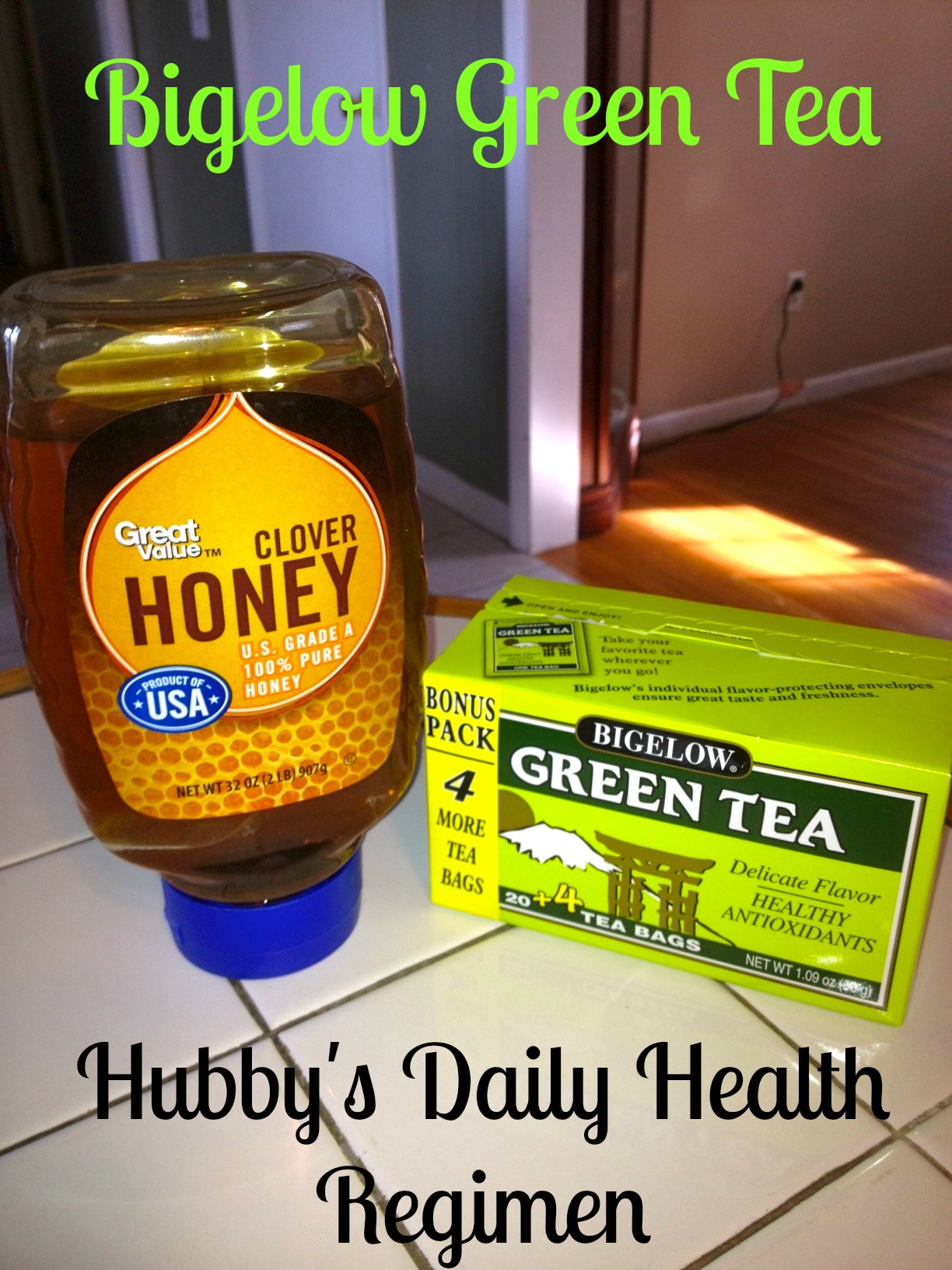 During the winter my husband settles for any kind of honey to go with his green tea, but in the summer when our farmer's markets are open he gets local honey. He believes buying local honey can help with allergy problems, although not all doctors agree. Even though the tea itself has so many benefits, he kicks it up a notch with this addition of local honey in his tea. Honey is probably healthier than sugar in any case, whether it helps with anything or not allergy-wise.
We are also big fans in our house of family-owned and local companies. Did you know Bigelow Tea is still a family-owned business? It's third generation owned and happens to be located less than two hours from where we live. We love this! In fact, I just recently found out that the first Bigelow tea was created by Ruth Bigelow after the Great Depression left her family in bad shape. She decided to try and recreate a colonial flavored tea with spices and orange rinds. The tea, called Constant Comment, was created in 1945 and the recipe has never changed. After learning about this tea, I decided I needed to try it and buy something other than the Bigelow green tea which I am accustomed to drinking. I headed to Walmart with my two kids to find this tea (and I found a couple more to try as well)! To see my entire shopping trip at Walmart, make sure to check out my Google+ Story.
I decided on the Decaffeinated Constant Comment tea since I usually drink my tea at night. A few things I love about Bigelow tea (all flavors) are the individual packets that keep the tea fresh, and the care and love put into each delicately flavored tea bag. When I opened the Constant Comment tea box, all the teas were lined up and I chose a packet. Once I opened it, you could smell the sweet aroma of the tea. The spices and orange flavors were apparent, even before putting the tea bag in the hot water. My overall impression of this tea is very favorable. I love the blended taste of the spices and orange. The smell is amazing too! I didn't even need any kind of sweetener. The spices added enough sweetness to the tea. You could literally see, smell, and taste the flavors. I could see the orange rinds in the tea bags. I think I'm going to need to add this to my list of favorite teas now. Sometimes it's good to mix things up a bit and try a new flavor, although I am definitely not giving up on my green tea that has so many health benefits and transports me when needed back to a place of peace and serenity. After a stressful day, all I need is my cup of Bigelow Green Tea to feel centered and calm again.
We let our kids drink small amounts of the green tea with honey. They love it, and it's healthier for them to drink than juice or soda. I hope they continue to love it as they grow up and drink it on a daily basis once they are older. What do you drink for added health benefits? What things help you in your life to feel centered and calm? Bigelow is our family's choice for many reasons; flavor, packaging, quality, family-owned, affordable, and because it just feels "right" for us!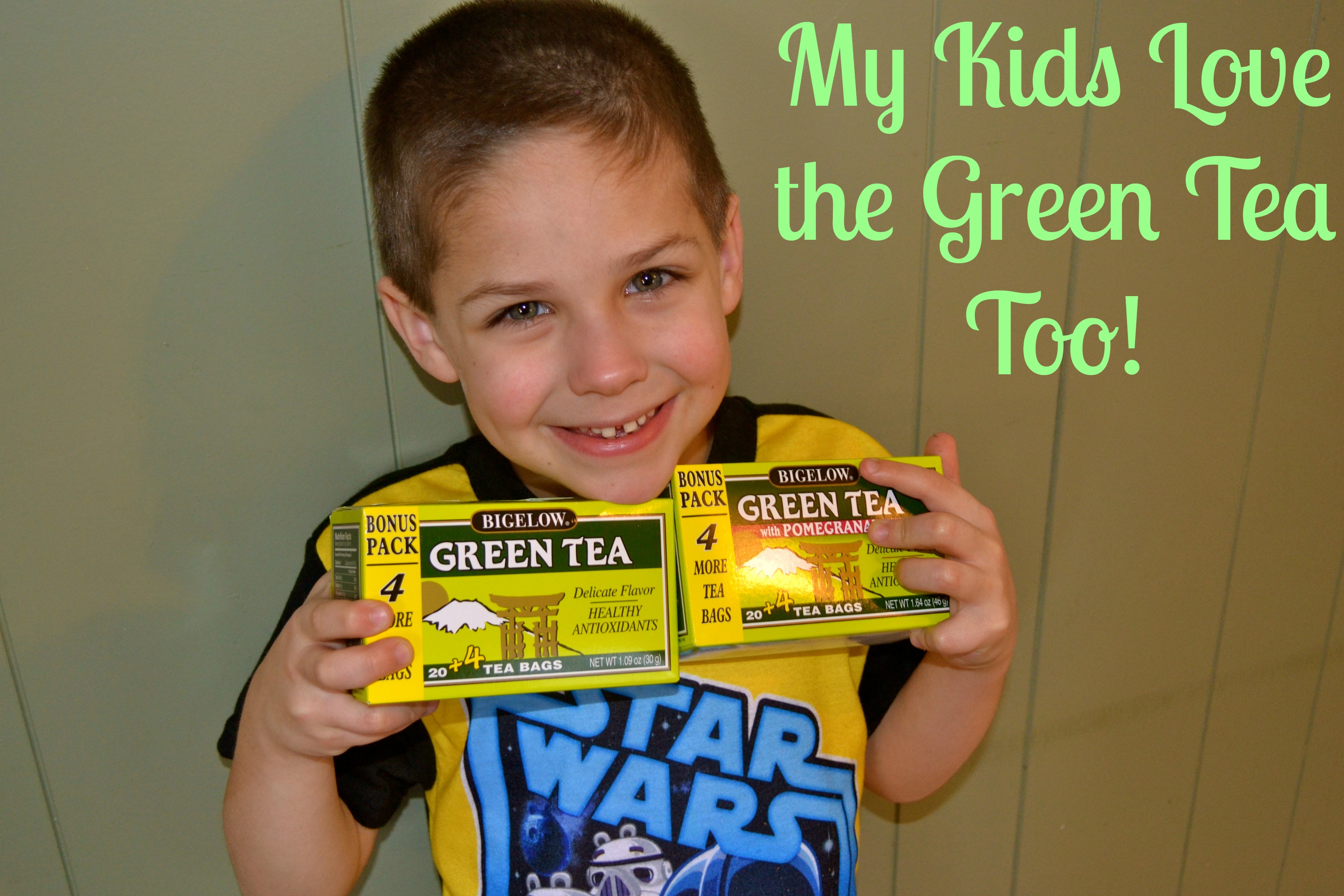 Make sure to check out Bigelow Tea on Facebook and Twitter. You can also learn more about their family-owned Bigelow teas on their blog.
I am a member of the Collective Bias® Social Fabric® Community.  This shop has been compensated as part of a social shopper insights study for Collective Bias® and Bigelow Tea #CBias #SocialFabric #AmericasTea. All opinions are mine and mine alone.