Disclaimer: I was provided with incentives for this post; however, all opinions are mine and mine alone.
The new Wizarding World of Harry Potter Diagon Alley at Universal Orlando is completely worth the visit. In fact, it was my kids' favorite thing at Universal Orlando, and the place we spent most of our time while at the parks. We had visited Universal Orlando previously (before Diagon Alley was open), and the Wizarding World of Harry Potter Hogsmeade at the Island of Adventure was definitely a hit, but we also enjoyed all the other rides that both parks had to offer (Transformers, Spiderman, ET, Despicable Me, etc.). If you are planning a visit to Universal Orlando, then you definitely need to get the two-park pass (and Express Pass too if possible). This will make it so you can fit everything in, as well as take the Hogwarts Express train from King's Cross Station and hop from one area of the Wizarding World of Harry Potter to the other. While we throughly enjoyed the park at Island of Adventure with  Harry Potter and the Forbidden Journey and Dragon Challenge, we loved the new Diagon Alley at Universal Studios Florida even more.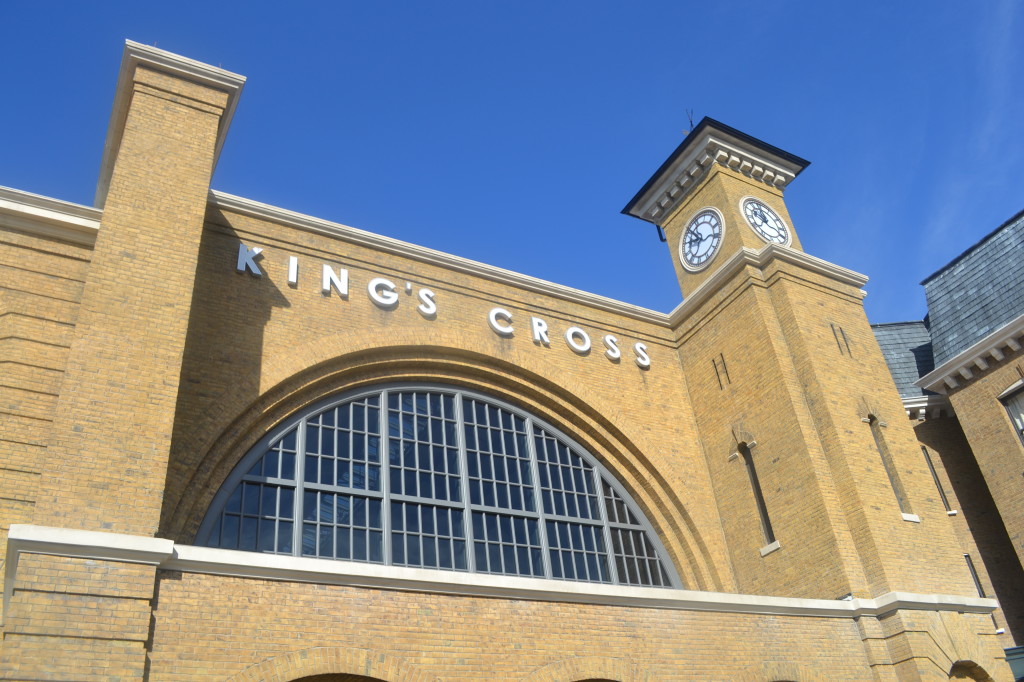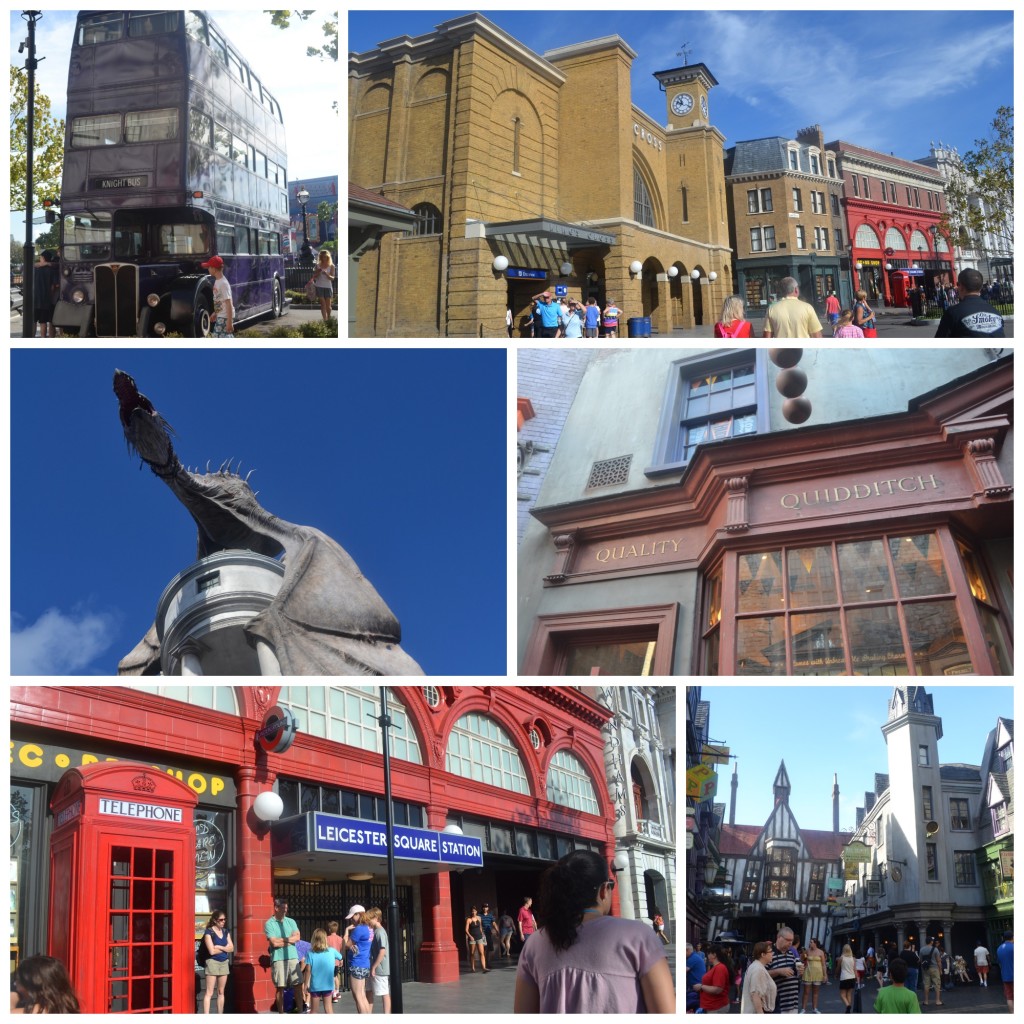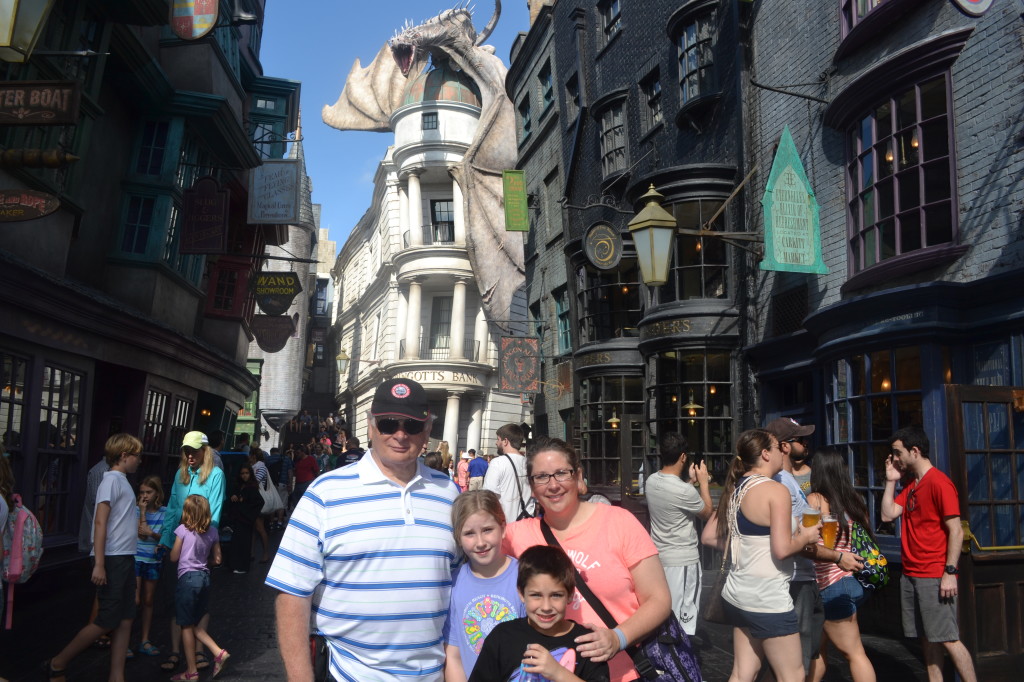 Harry Potter and the Escape from Gringotts is the highlight of Diagon Alley. It's the new 3D multi-dimensional ride that takes you through Gringotts on an adventure you won't forget! You will even encounter "He Who Must Not Be Named" and see your favorite characters from Harry Potter as well. It's an amazing ride and well worth the wait. As you are in line you get to navigate Gringotts and see the goblins at work. This makes for a fun experience as you wait. As for the ride itself, it was fast-moving, dark, and 3D action packed. However, it was a very smooth ride. It did not seem overly jerky, and there were no huge drops. My 7-year old son, 10-year old daughter, and my 75-year old father rode it with me. As you can see, it can be for everyone! We all enjoyed it!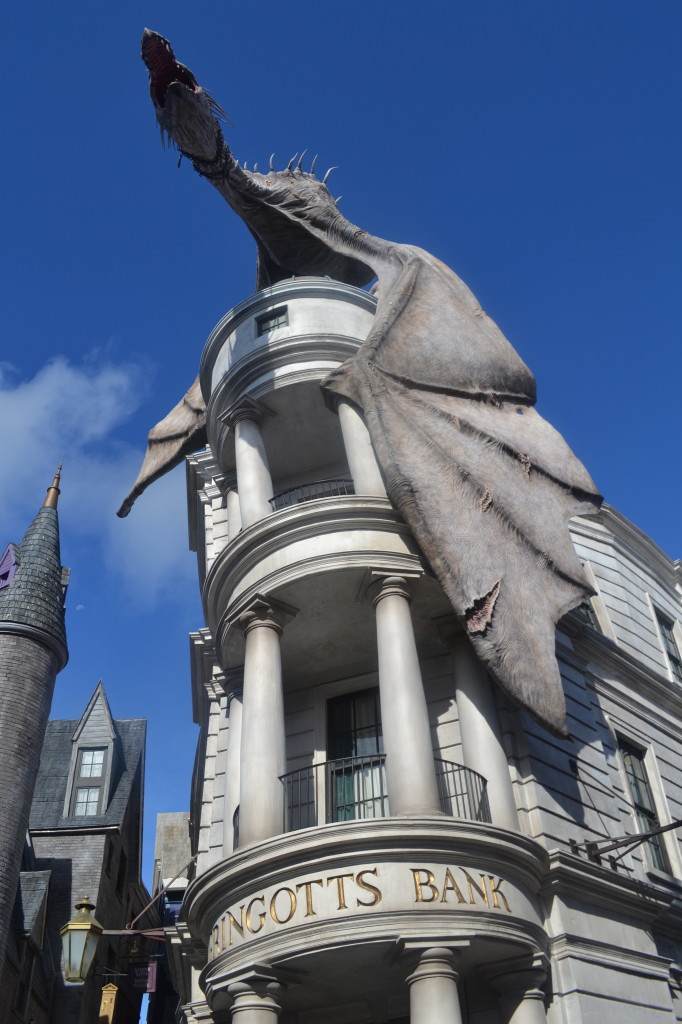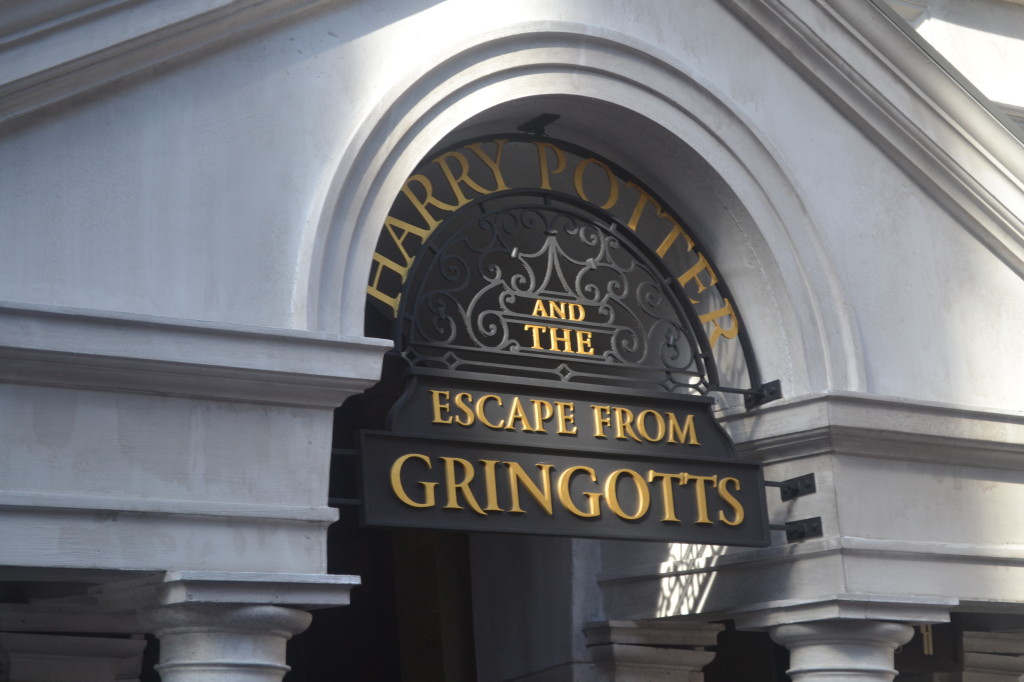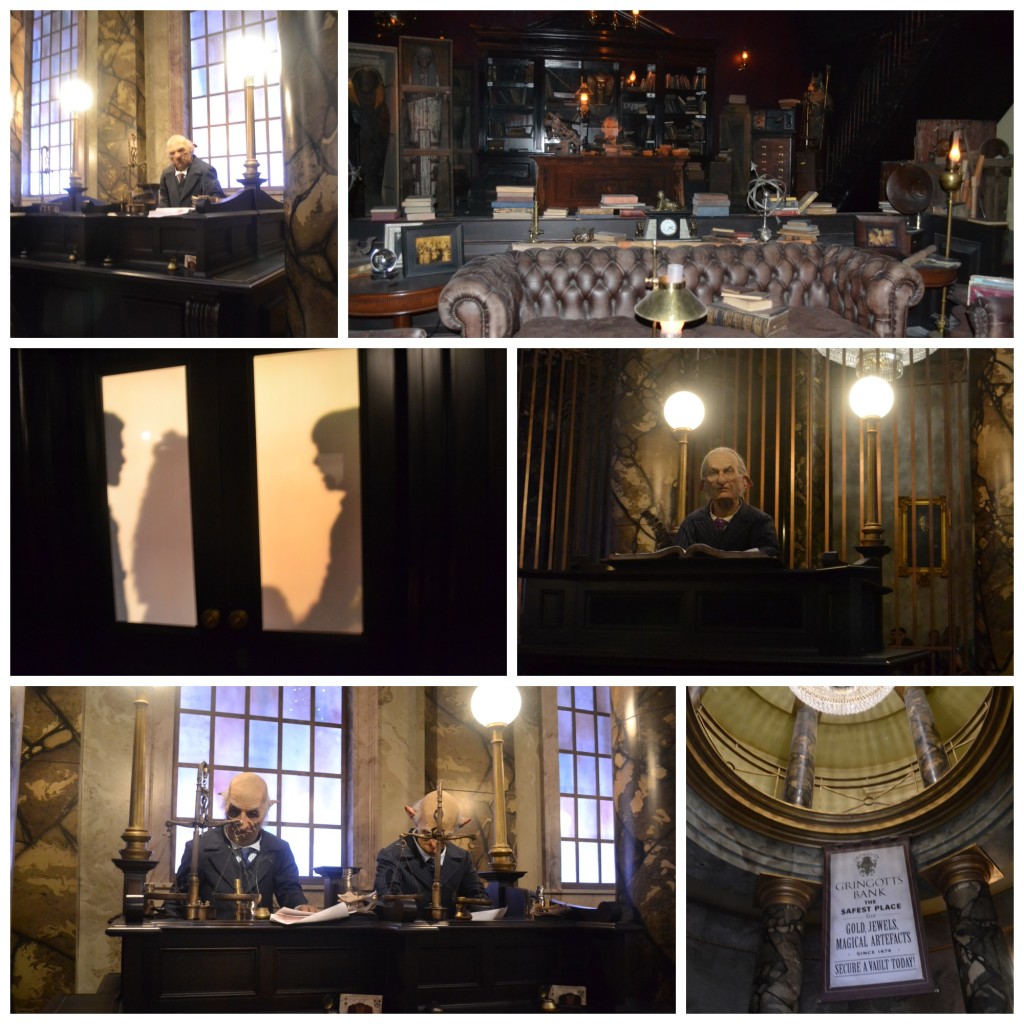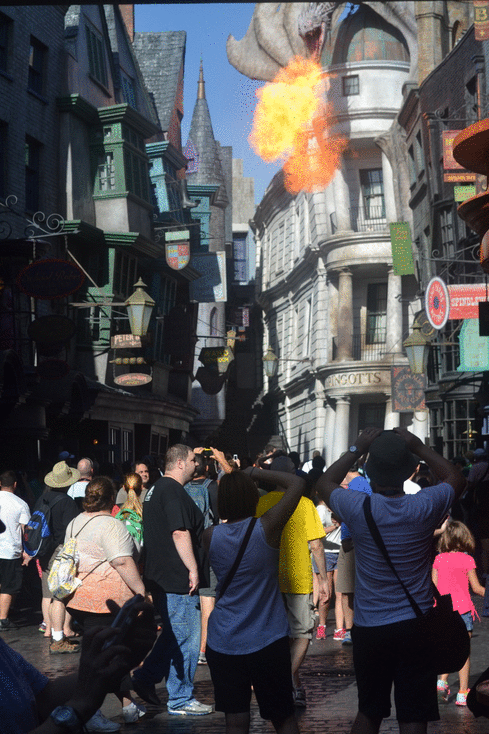 Other exciting things in Diagon Alley include Ollivander's Wand Shop, the Leaky Cauldron, and the Money Exchange (where you can verbally interact with a goblin). While at Ollivander's Wand Shop, my daughter was lucky enough to be selected out of the crowd to participate in the wand matching ceremony. As we know, the wand chooses the wizard. She was able to try out different wands (mostly ones that didn't seem to be working out well), and then once the correct wand for her was placed in her hand, light shone down on her and her hair was blowing in the wind. The wand keeper said, "This looks like a perfect fit!" We ended up purchasing that exact wand. This experience was the highlight of our entire trip to Orlando for my daughter. Of course we had to find a "perfect fit" wand for my son as well, and after that we spent hours in Diagon Alley using our interactive wands to create spells and see them come to life before our eyes! There are about 40 golden plaques on the ground throughout the Wizarding World of Harry Potter, each that shows it's own pattern to wave the wand and make magic happen. Once my kids discovered this we only rode a few more rides in the park and then it was Frozen Butterbeer and wands for the rest of the day! Their two favorite things about Universal Orlando!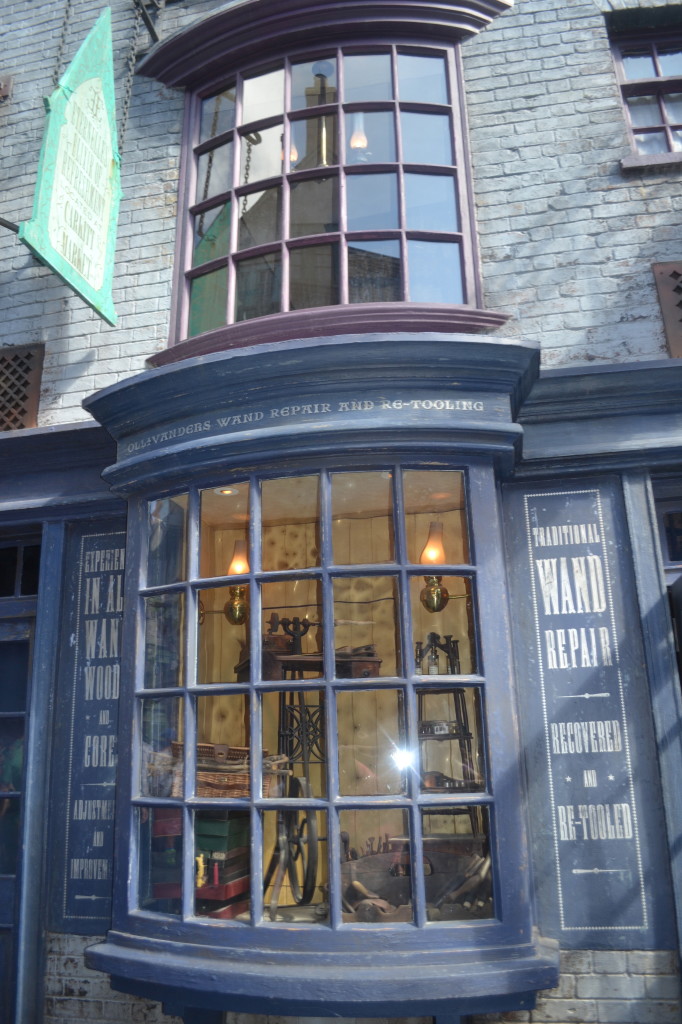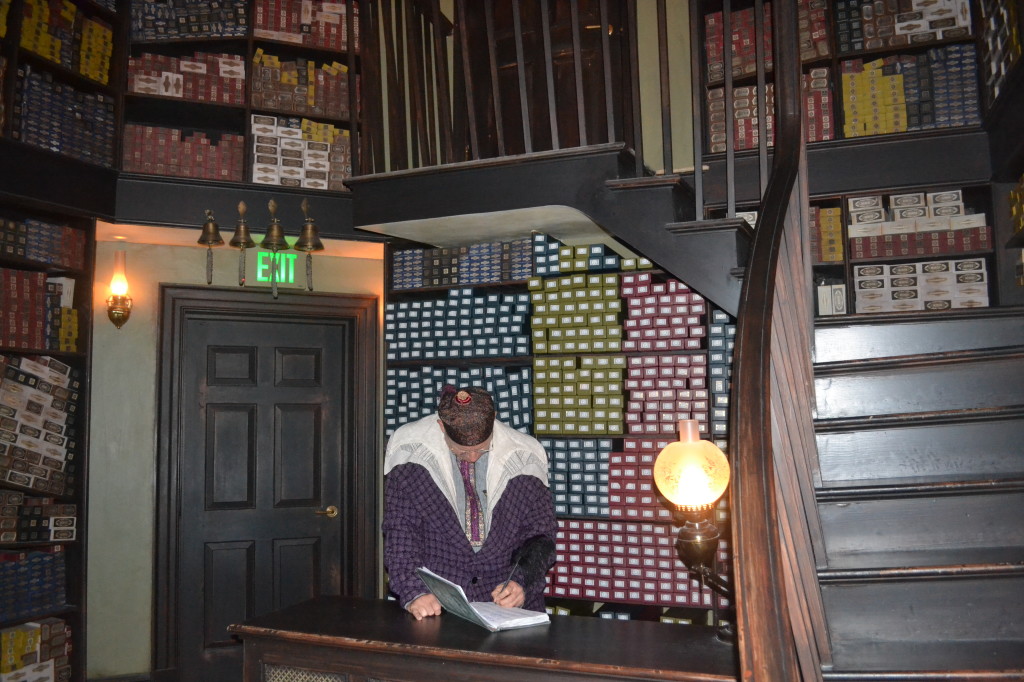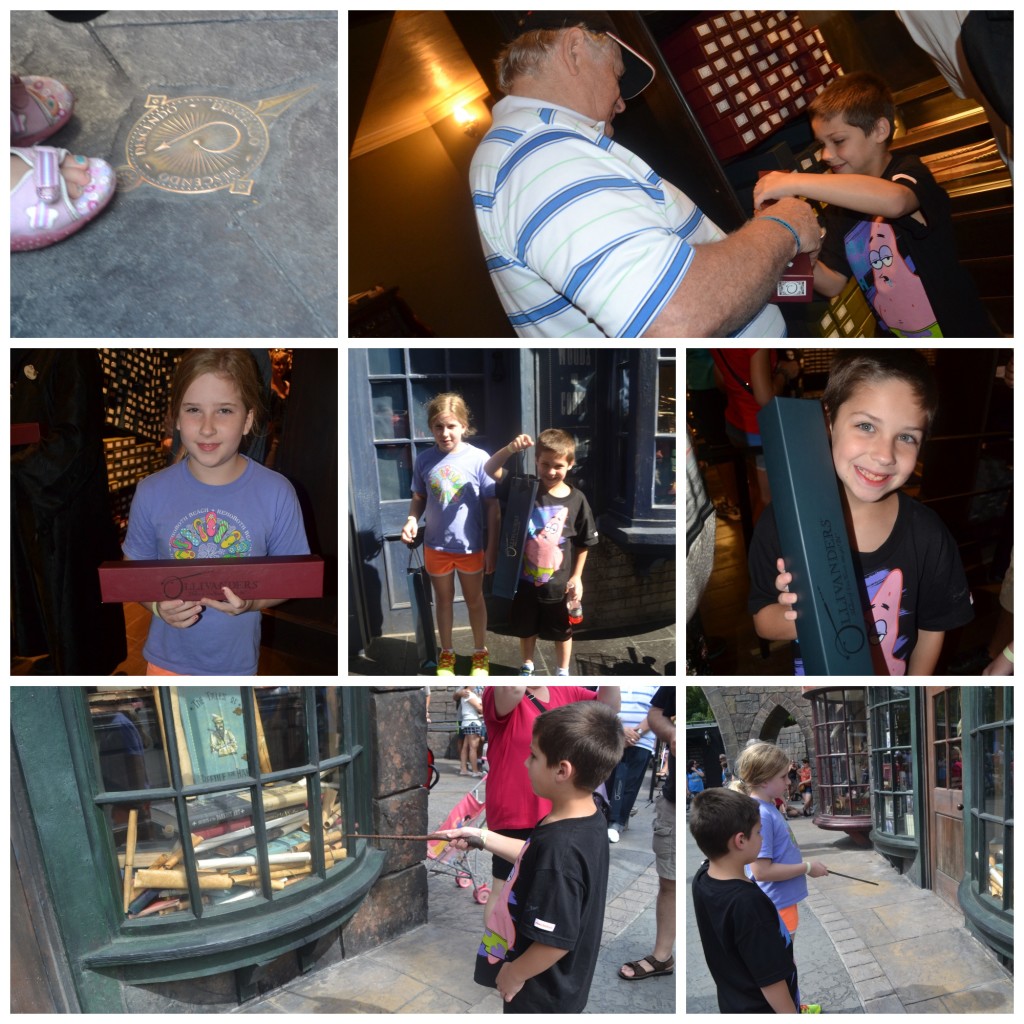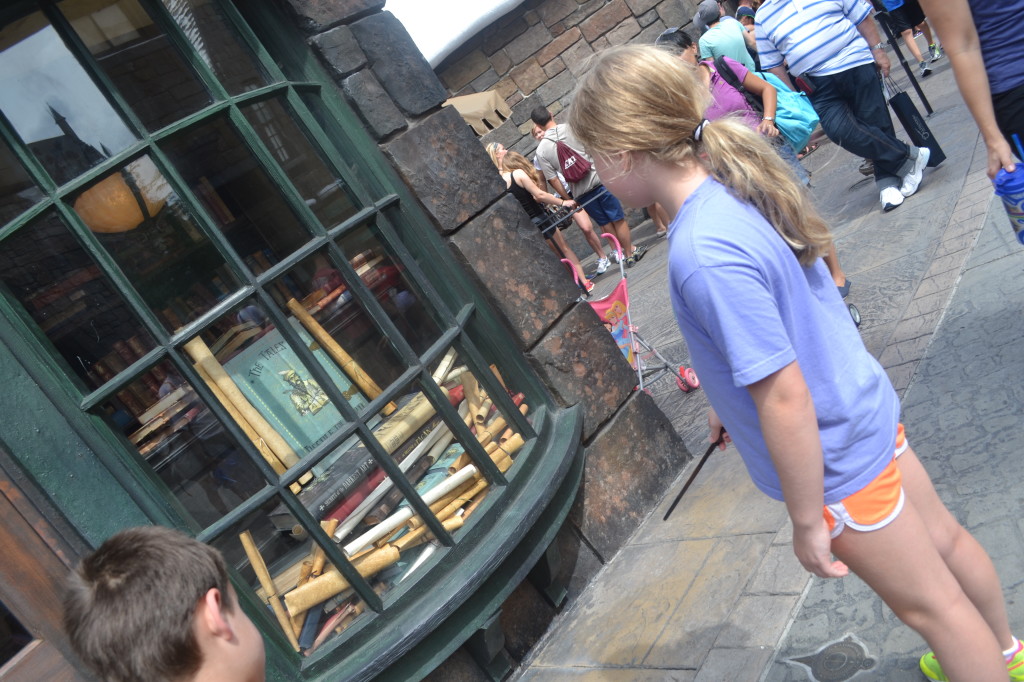 We tried eating at Three Broomsticks at Island of Adventure on our first trip to Universal Orlando, and the food was absolutely delicious. You don't usually find such quality food at a theme park, but you do here at Universal. This time we tried eating at the Leaky Cauldron in Diagon Alley. It was just as good as our meal at Three Broomsticks. I would recommend eating at either. You literally feel like you are eating at Hogwarts in the dining hall with Harry and his friends. Also, if you have never tried Frozen Butterbeer, then it is an absolute MUST! Add it to your list of things not to miss. Another cool drink you can get as well is the GILLY WATER. It looks like plain bottled water, but then you add magical and colorful elixirs for a slightly sweet taste. The names of the elixirs are: Draught of Peace, Babbling Beverage, Elixir to Induce Euphoria and Fire Protection Potion. We tried two and they were FUN to make a delicious to drink!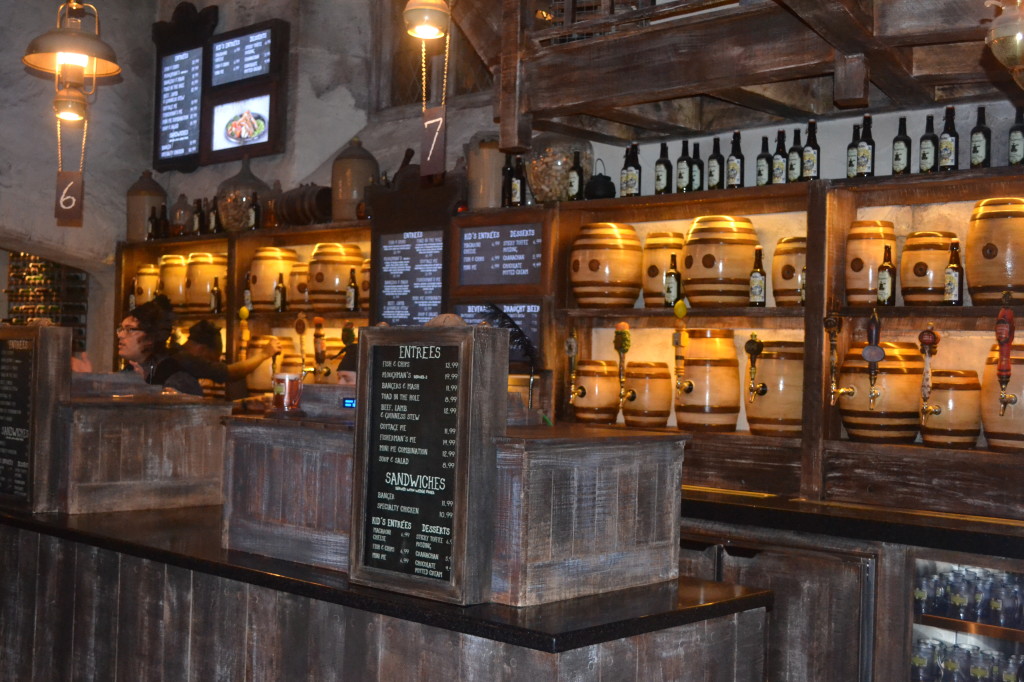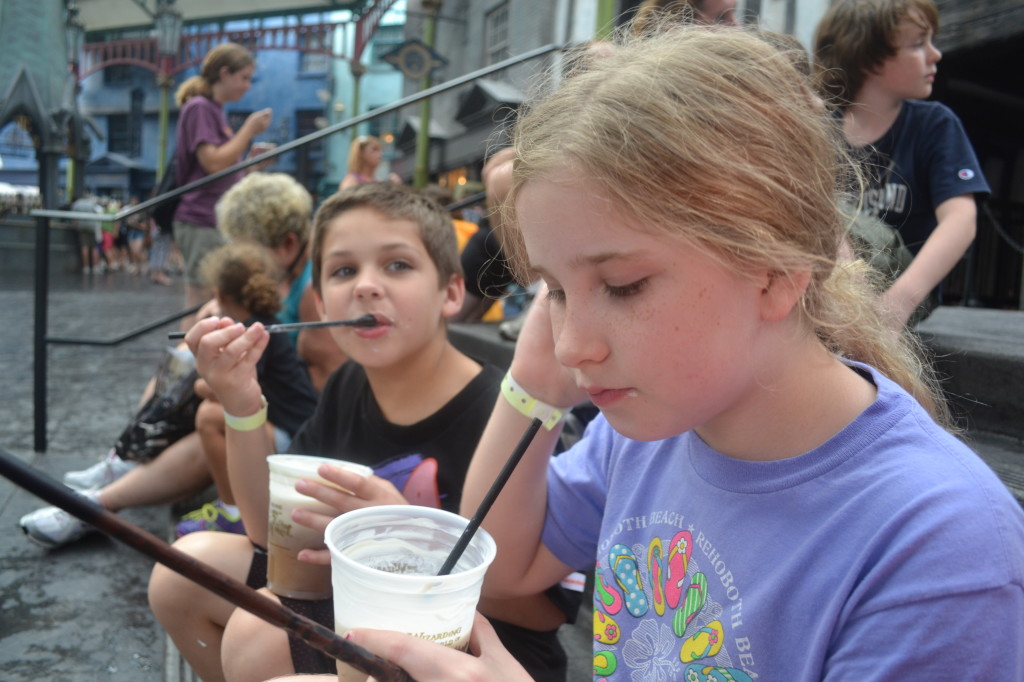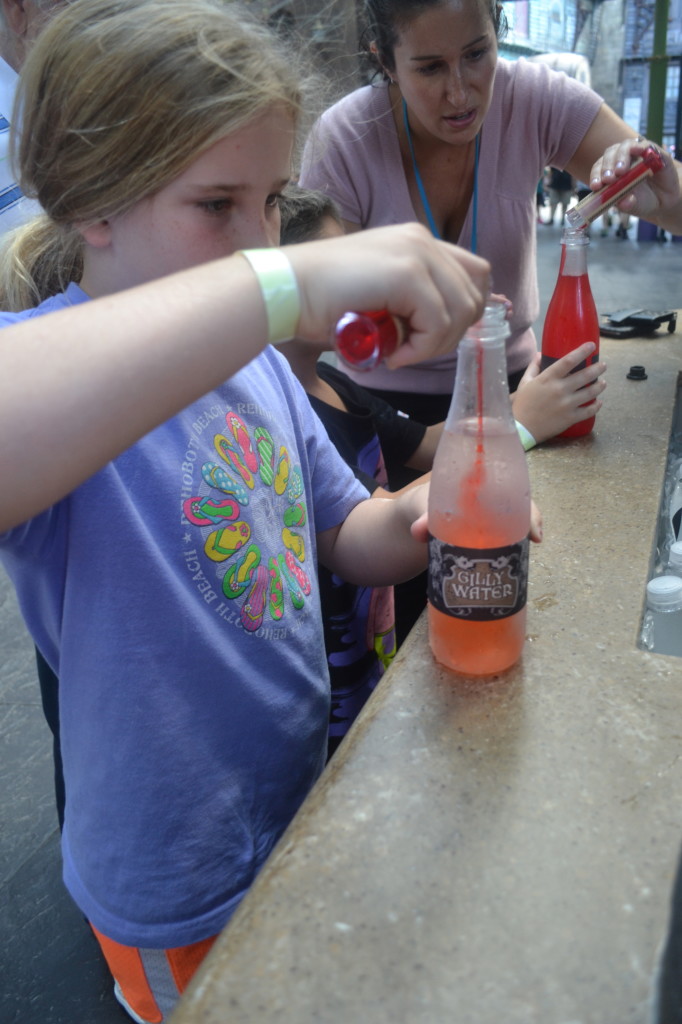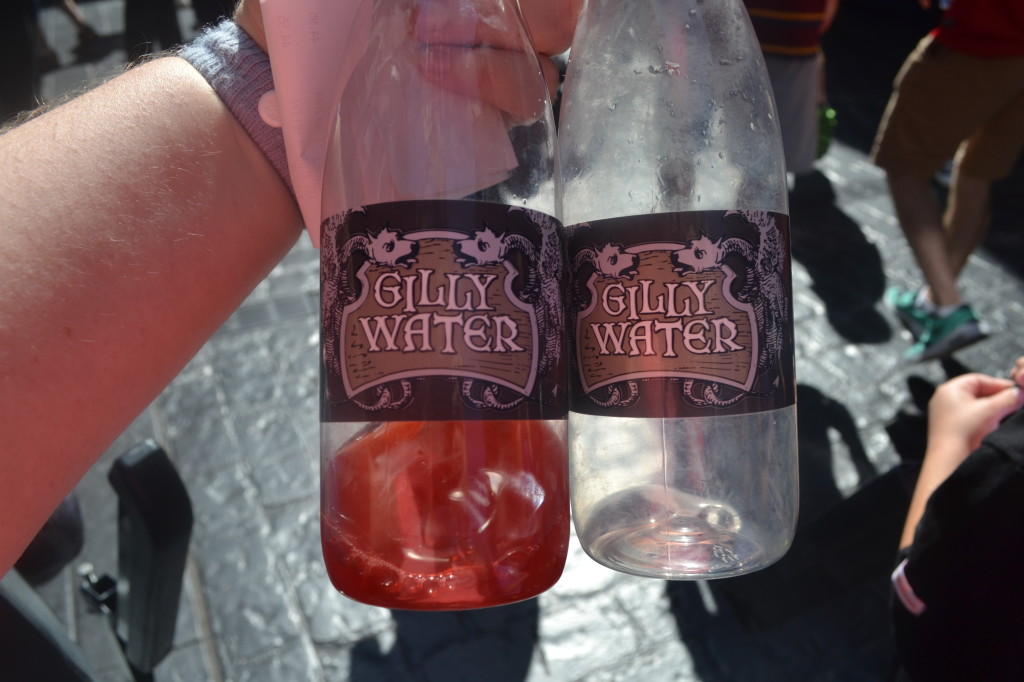 Diagon Alley is like entering the Harry Potter series. You feel just as if you are in Harry's world experiencing what he did. From wand and robe shopping, to catching the train at 9 3/4 platform at King's Cross Station to head over to Hogsmeade, you really are immersed his this world. You even see people walking through the brick wall while entering platform 9 3/4, as well as feeling just like you are on the Hogwarts Express as you head from park to park. It's truly amazing, and an experience you will not want to miss! It's definitely something to add to your bucket list of things to do in your lifetime. Live as Harry Potter did and become part of his adventure. This escape into the Wizarding World of Harry Potter Diagon Alley and the Wizarding World of Harry Potter Hogsmeade will make you dream of coming back to Universal Orlando again and again. We are certainly dreaming of the next time we can return.