Get a quote on a Universal Orlando Vacation Package
Disclaimer: I won this trip to Orlando from @VisitOrlando, and I did not have to post about it. I am posting on my own because I want to!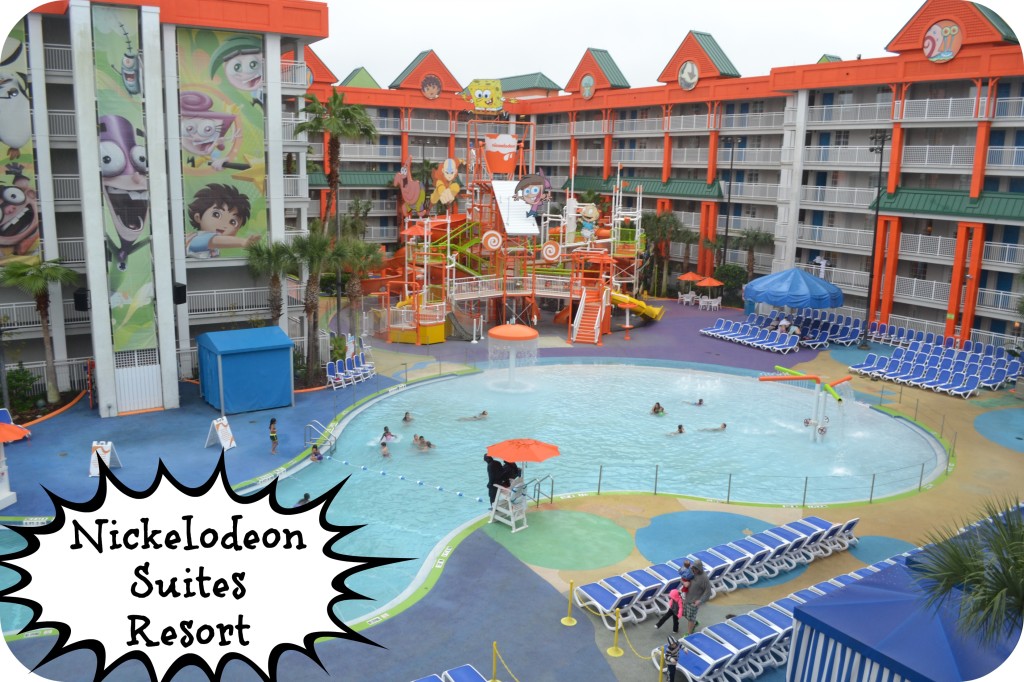 As part of my prize winning package from Visit Orlando that you read about in my Universal Orlando post, we were able to stay at the Nickelodeon Suites Resort for four days, three nights. It was an absolutely fun and amazing place to stay! We got really lucky. The suites range from one to three bedroom places, which are perfect for the whole family. It's hard being on vacation and having to go to bed early to make the room dark for the kids to sleep, when really you want to be watching TV or reading for some "YOU TIME." Having a suite gives you that nice separation you need to make it a true vacation for both yourself and the kids. We had a two-bedroom suite, which included a kitchenette area, living room, sleep area for the kids (decorated with Spongebob Squarepants), and a bedroom (with a door to close) for the adults. It was awesome! The room was nice and clean, and we were centrally located to get to the pool and mall/food court of the resort easily. We would definitely stay here again!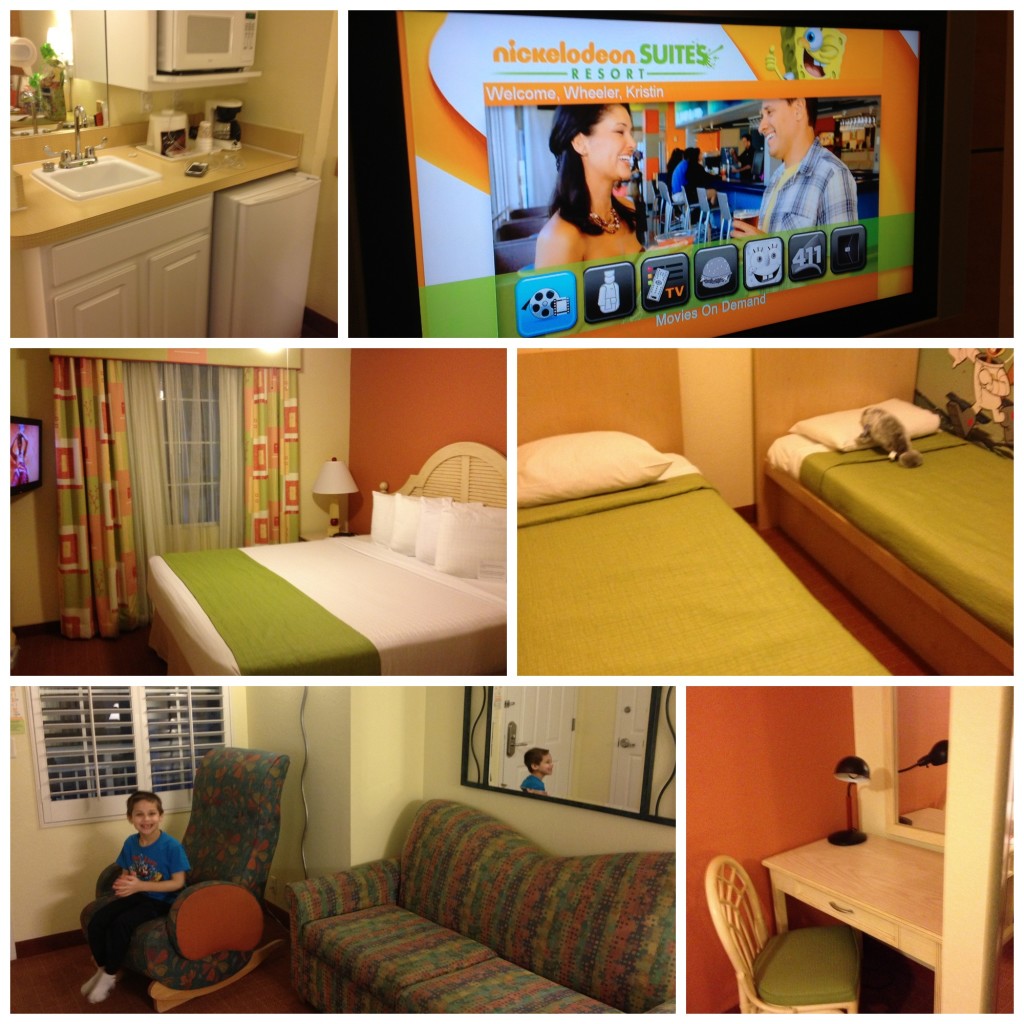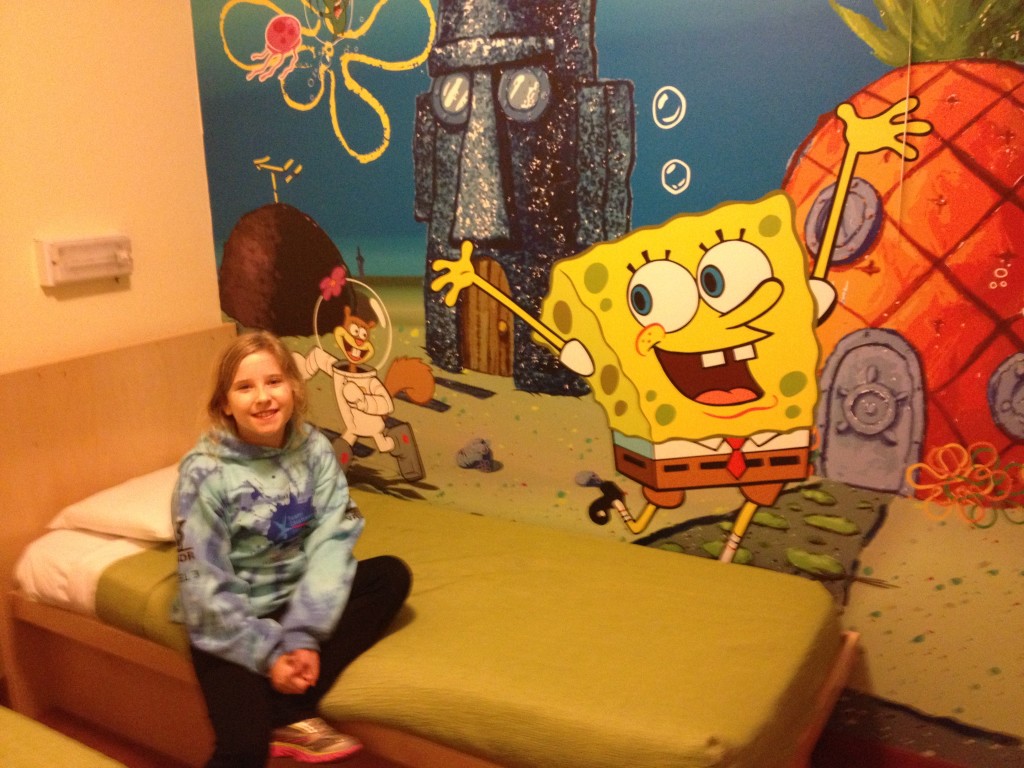 So, you can see the accommodations are awesome, but what else makes the Nick Suites (also referred to as the Nick Hotel) such a fabulous place to stay? Here are a list of the things we LOVED about staying at the Nickelodeon Suites Resort in Orlando, Florida:
1. The Mall/Food Court Area
The resort has a mall area which includes two stores to shop at, a couple of restaurants to eat at (including Subway ~ our favorite), an arcade for the kids to play at, a studio for shows, booths to get information for your trip, and more! We used this mall every day for eating, shopping, and to make reservations for free shuttles to Universal and to get information about other area parks (like LEGOLAND Florida and Sea World). The kids had a blast at the arcade on a rainy day when we were there, and we went to the studio one night to watch a LIVE Double Dare show! I loved that we could get anything we wanted and we never had to drive off the resort property. Talk about convenient, right? Also, there was a 4-D Experience we want to check out next time!
2. The Character Breakfast and Dinner
We attended a Spongebob Squarepants character breakfast, as well as a Teenage Mutant Ninja Turtle character dinner while staying at the Nick Suites. Both were awesome events and the kids had a blast! They loved seeing all the characters there, watching them dance around, and taking photos with them. The food was a buffet, but the quality of food was GREAT! You usually think buffet food would not be good, but this was awesome! There were plenty of options for everyone at each meal, and these options included filling and healthy foods as well as treats. I think we liked the TMNT dinner more since the turtles were really funny and it was not as crowded (we did a 7:30pm seating time). The kids got to interact with the characters a lot at this dinner! I recommend that you should at least choose one when you are there (if not both). It was worth it!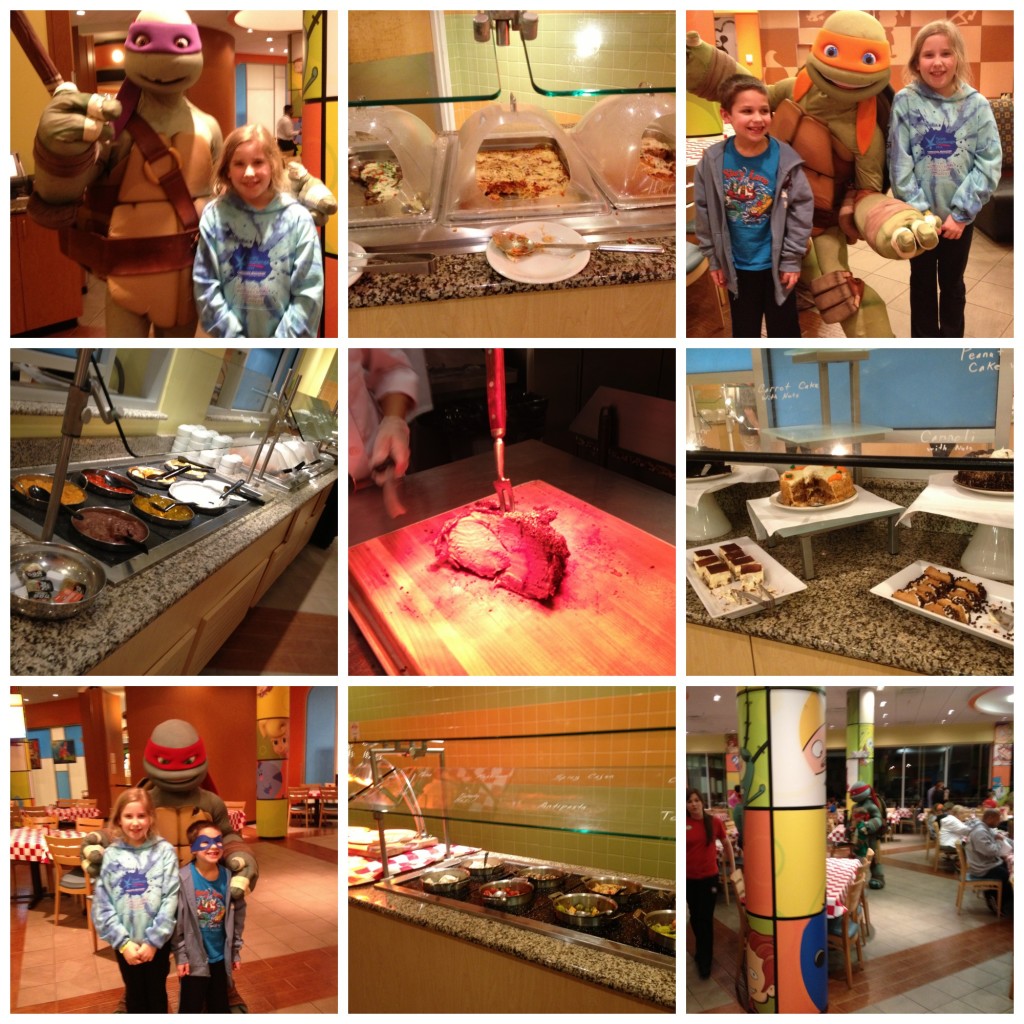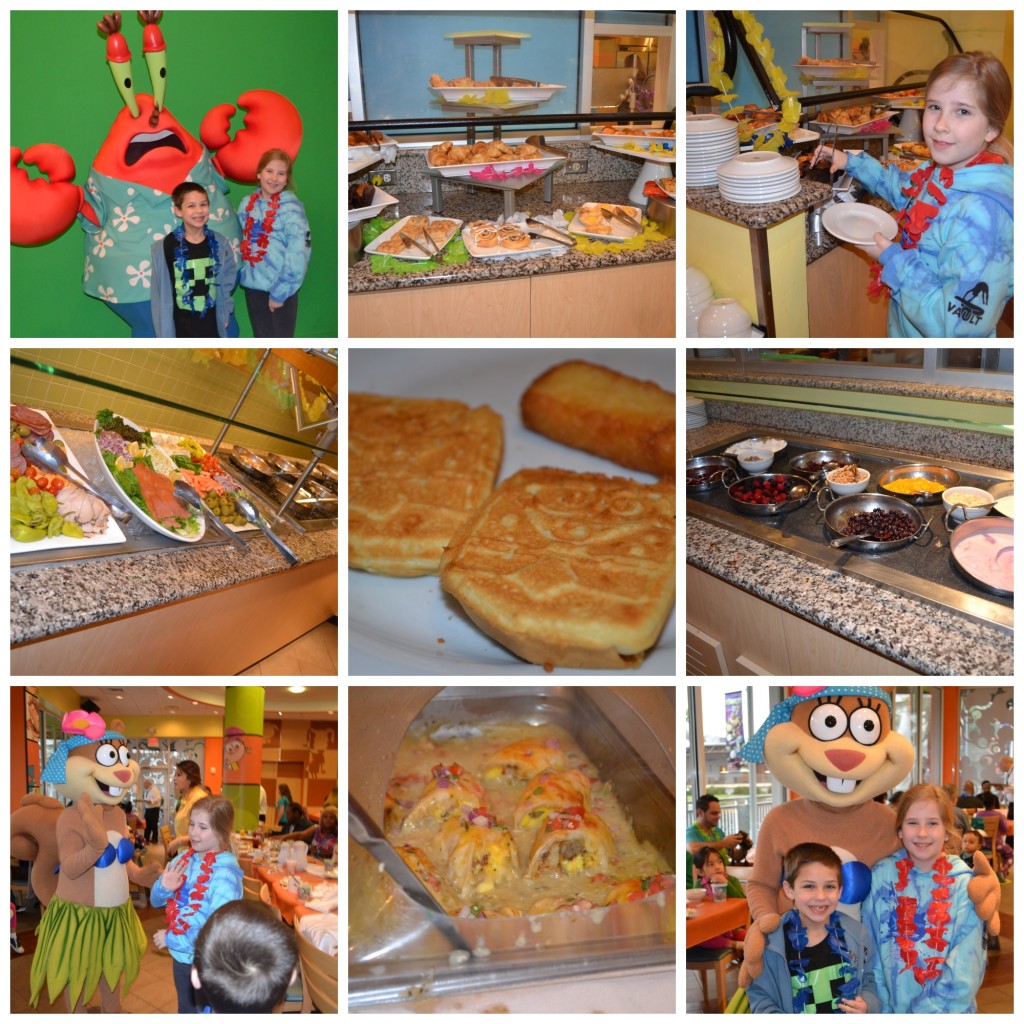 3. The Amazing Pool Area
As you could see in the picture at the top of the page, the pool area/lagoon was amazing! We spent an entire day just letting the kids swim, even though it was cool and rainy out. At first we were wondering what the people were doing in the water since it was chilly outside, but once we put our toes in we realized why ~ it was a heated pool! The kids had fun in swimming around the pool area, playing on the water slides and through the sprays, and even being able to go in the "family hot tub." They had two hot tubs available, and the family one was kept at a cooler temperature than the adult one so the kids could be in it. The poolside also had shows running throughout the day and had people come up to get slimed! My kids loved the two or three times a day they also did the mass sliming from the water slide area. So much fun! The pool area also includes a bar area to get food/drink, a basketball court, mini-golf, and massage cabanas. I think I will need a massage next trip!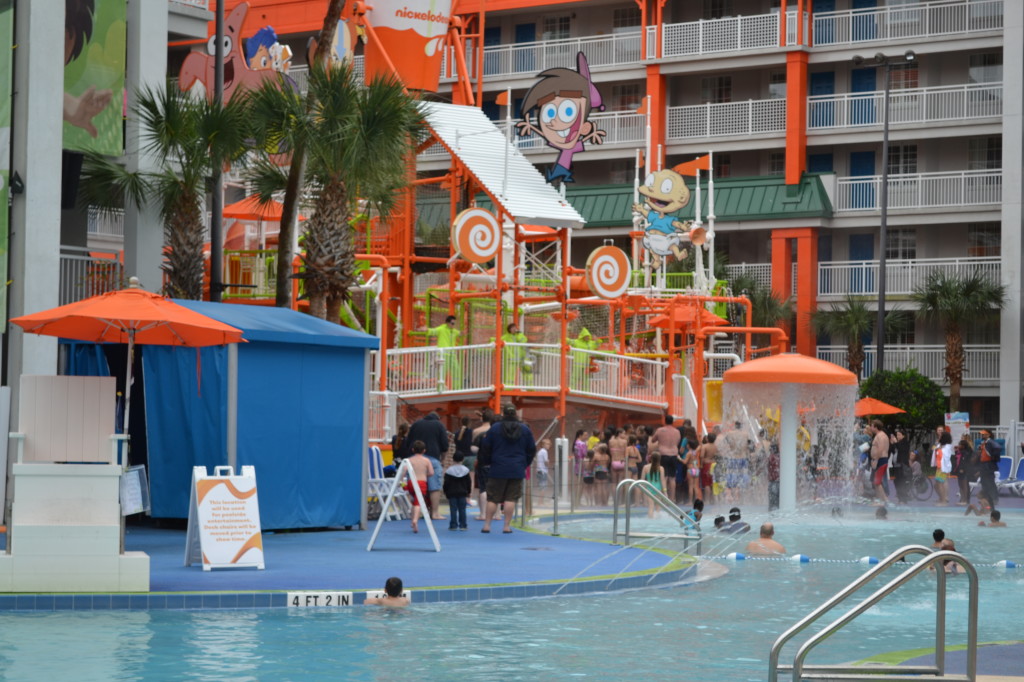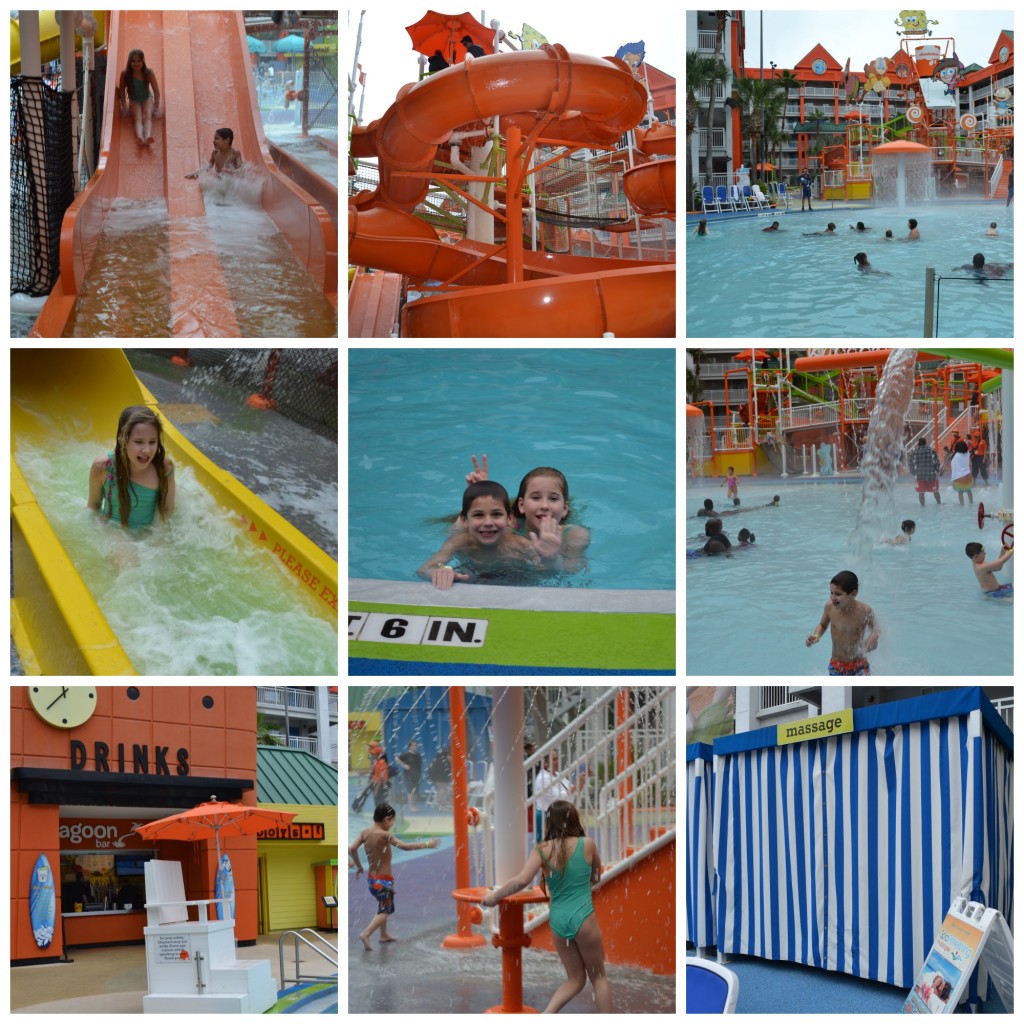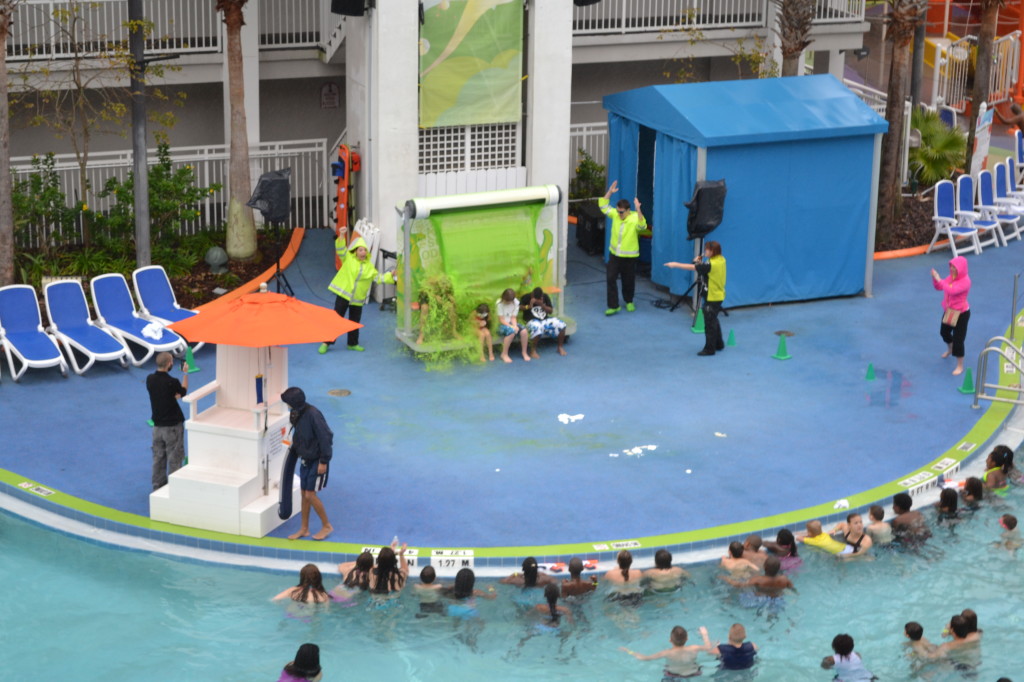 4. The Double Dare Show
The Double Dare show took place at night in the studio at the mall area. It was fun watching two teams complete against each other, just like being at a LIVE taping of the show. If you want to be "on the show" you can tryout during the day when they do the call for tryouts at the mall. We almost decided to tryout, but my son was not old enough yet. Maybe next time!
5. The Amazing Pictures Booth
The mall has the Amazing Pictures booth near the studio area. Here you can take photos, or just retrieve photos from when photographers took pictures of you from events like the character breakfast and dinner, sliming time, etc. I bought a few of the photos to take home. The only thing I wished is that I could have used my same Amazing Pictures account here that I had set-up through Universal when we visited there. The two places run separately though.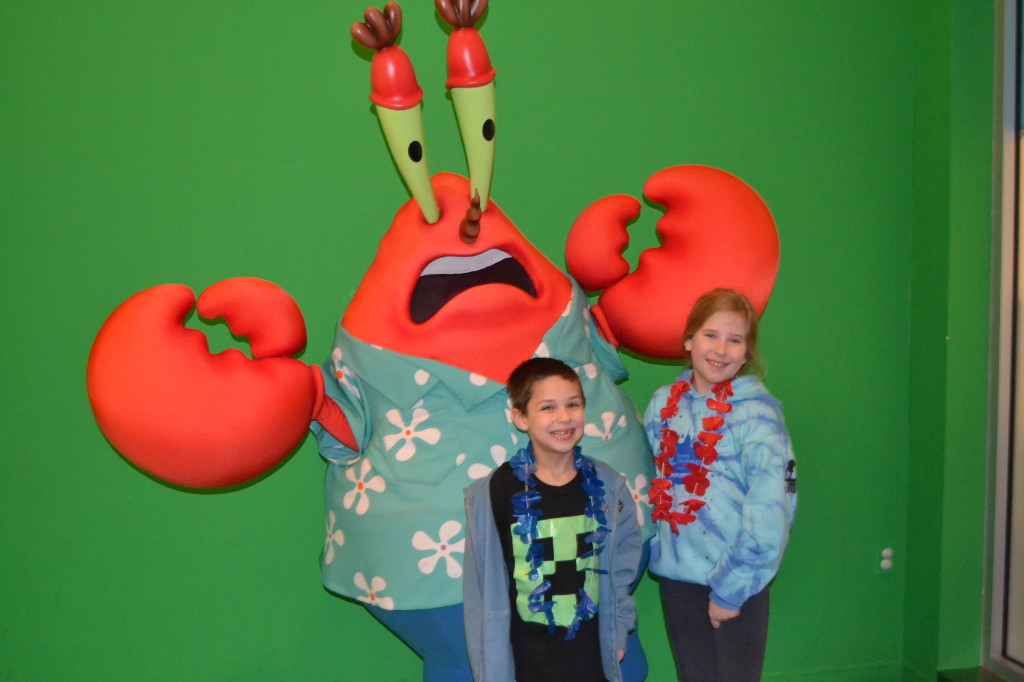 We definitely had a great stay at the Nickelodeon Suites Resort in Orlando, Florida! Not only was it a place to rest at night, but it also added to our fun and experiences that we had while in Orlando. Staying here was an event in itself. Also, I want to note that everyone I encountered at the property (from the front desk to the waiters at the restaurants) were all amazing, friendly, and helpful people. We couldn't have asked for anything better! Oh, and we had free WiFi to boot! We will 100% be staying here again! It is conveniently located to all the Orlando area attractions (Disney, Universal, Sea World, LEGOLAND), and has much to offer a family for the vacation of their dreams! Don't forget to book at the Nickelodeon Suites Resort in Orlando, Florida today!