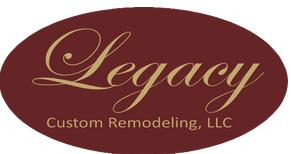 Many of you have been watching my home renovation over the past few weeks, and it is just about done! Legacy Custom Remodeling has been great with working within our budget, being timely, and producing quality work. The estimated time of the renovation was about three weeks, and that's just about what it took. I was very nervous before the remodel, because many people told me to expect double the timing (minimum) and double the costs. That made me so nervous to even start the renovation, but luckily things have turned out great. For anyone living in the New England area that wants to have a home renovation (small or large), you should definitely call Legacy Custom Remodeling for a quote. I definitely recommend them to anyone wanting to do a renovation in their home. Just send me a direct email and I can put you in touch! And….. having your home renovated does not have to be scary or a nightmare.
I watched many home shows where disaster struck, especially after looking at what was behind the walls. I did not have any issues with that, and in fact when I asked our contractor he said he would be greatly surprised if anything like that happened. They do a pre-renovation walk through during their estimate and look for where issues might occur. You definitely learn more firsthand from a renovation than you do watching HGTV.
So, for everyone that wanted to see the before and after pics, here they are:
As you can see, things are now newer, brighter, cleaner, and fresher! It feels nice to have updated rooms that will add to the value of our home and be nicer to live in. Here are a few of my favorite things:
New Pantry (we did not have one prior to the renovation)

Dishwasher (we did not have one prior to the renovation)

Garbage Disposal (we did not have one prior to the renovation)

Built-in spice rack

Lazy Susan in the corner cabinet

Counter that you can sit at to eat with stools

Our refrigerator water/ice works now

Slow closing drawers

Recessed Lighting

Under Cabinet Lighting

Backsplash

Extra cabinet for storage above toilet in bathroom

Larger sink top and cabinet

Tub to ceiling subway tile (makes the room look larger)

Floor tiles in both the kitchen and bathroom

 
If you want to check out the progress of the remodel, I have a post at the beginning and halfway through you can check out! I will also post one more time to let you know how things are going post-renovation and how everything turned out! Right now we have a "punchlist" of small items for them to look at this week, but we are 99% done as of right now! I can't wait until we can all move back upstairs! We've been all living in the basement together for the past almost month now. It will be great to get back to living and with our new and improved rooms! What's next for the Wheeler house? After being happy with the work that Legacy Custom Remodeling produced, we will more than likely have them do our next remodel which will include a third level put on our house to give us more space (master bedroom with en suite and walk-in closet, two other large bedrooms upstairs, and the two kids bedrooms downstairs would become a family room after some walls are knocked down). We've got big plans, and Legacy can hopefully make our dreams a reality as they have done so far.