I remember seeing Ghost in the movie theater years ago. In fact, it was my very first date ever!!! It was such a great date night movie, and I know the LIVE show of Ghost the Musical is going to be amazing as well. A perfect "Date Night" or a "Girls' Night Out!"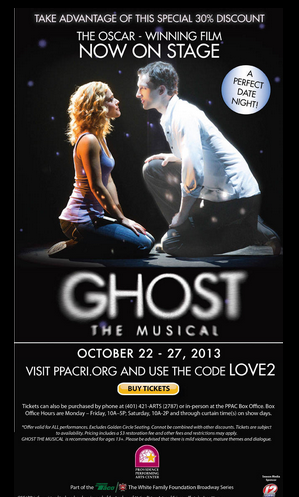 I have an AWESOME offer for you as well, so make sure to get it while it lasts!! You can get a 30% Discount by clicking HERE! To get the special code, please leave a comment below that you would like it and I will email you with the information! THANKS!!
Information About Ghost from PPAC:
GHOST THE MUSICAL is a timeless fantasy about the power of love. Walking back to their apartment one night, Sam and Molly are mugged, leaving Sam murdered on a dark street. Sam is trapped as a ghost between this world and the next and unable to leave Molly who he learns is in grave danger. With the help of a phony storefront psychic, Oda Mae Brown, Sam tries to communicate with Molly in the hope of saving and protecting her. Click HERE for more information!
Oct 22 – 27 , 2013
Fri/Sat Eves, Sat/Sun Matinees: $78, $66, $61, $51; All Others (Weekdays, Sun Eve): $68, $56, $51, $41
 Make sure you don't miss this amazing show next week!!!!