Yes, there is E. coli here in my water! I live in Kent County, Rhode Island and we just got a message to boil the water due to E. coli in the water. Word spread through Facebook, Twitter, TV, and word of mouth within hours of the announcement. I went to the store to get some bottled water (just in case), and apparently everyone else in town had the same idea! Luckily, we got some before it sold out! We are going to have to spend about 3-5 days without water or to boil it first. I hope it only takes that long!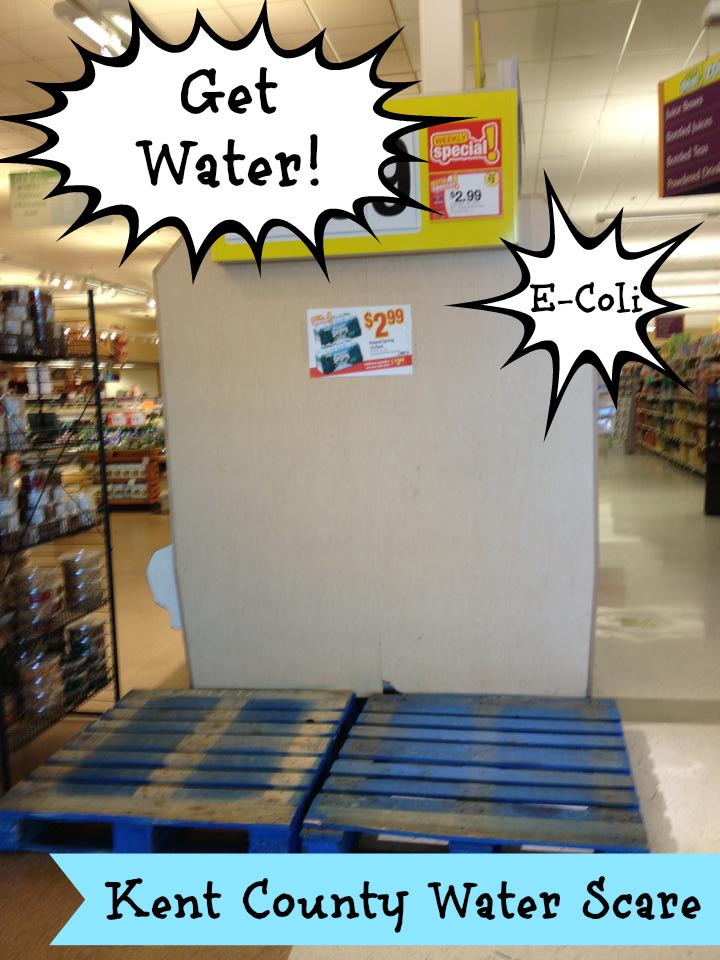 I honestly did not know much about E. coli and what this meant. I just knew that it did not sound good. Unfortunately, I had just filled up my son's water bottle for soccer with tap water both days this weekend. Ugh!!! There's nothing I can do about that now, except to wait for symptoms if they occur and to protect us from here on out! I've been doing research and learned the following:
We can shower (quick showers without getting it in our mouths), but better not to take baths. DO NOT bathe babies!! I feel bad for my friends with newborns.

Drink water that is boiled rapidly for over a minute at least! Or bottled water if you have it!

Wash dishes in water that has been boiled! 

Do not use tap water to wash off your fruits and veggies (use the water you boiled or bottled water)!

You can wash your clothes!

Brush your teeth with bottled water!

Water filters DO NOT filter out E-Coli

It is caused from feces contaminating the water (YUCK)!
So, what should you do if you've already had the water with E. coli? Nothing! Just watch for signs. What are the signs?
Severe stomach cramps or a tender stomach

Diarrhea (can become bloody)

Nausea and vomiting

Possible fevers
E. coli infections can go away on their own. Some people may not even know they have it. If it becomes severe then a doctor must be contacted. In the worst cases this can lead to kidney failure and death. The elderly and infants can be at a higher risk. If you have symptoms please stay hydrated with clean water and call your doctor!
You can bet we are throwing out our ice, tossing old filters out, boiling water for washing dishes, using bottled water for drinking and brushing teeth, and watching for symptoms since we had the tap water within the past 48 hours. UGH!!! I will keep you all updated! Hopefully we will all be okay, and all my friends in the area please stay safe!!!
I just got a call from our school system that the water fountains at school will be blocked off, students should bring bottled water to school for hydration, and schools will try and provide some bottled water as well and antibacterial hand sanitizer. I thank the East Greenwich Public Schools for taking these precautions and letting us know!
Check out the East Greenwich Patch site for more information and below is the number for the Kent County Water Authority if you have more questions from their announcement on their site!