Disclaimer: As part of the StreamTeam from Netflix, I am participating in this post. Incentives are given for being a part of the team; however, all opinions are mine and mine alone.
I know you all have your favorite Netflix series to watch (as I am patiently waiting for June 12th to roll around to watch season three of Orange is the New Black), but if you are looking for something good to watch right now …….. here are some shows to stream and enjoy!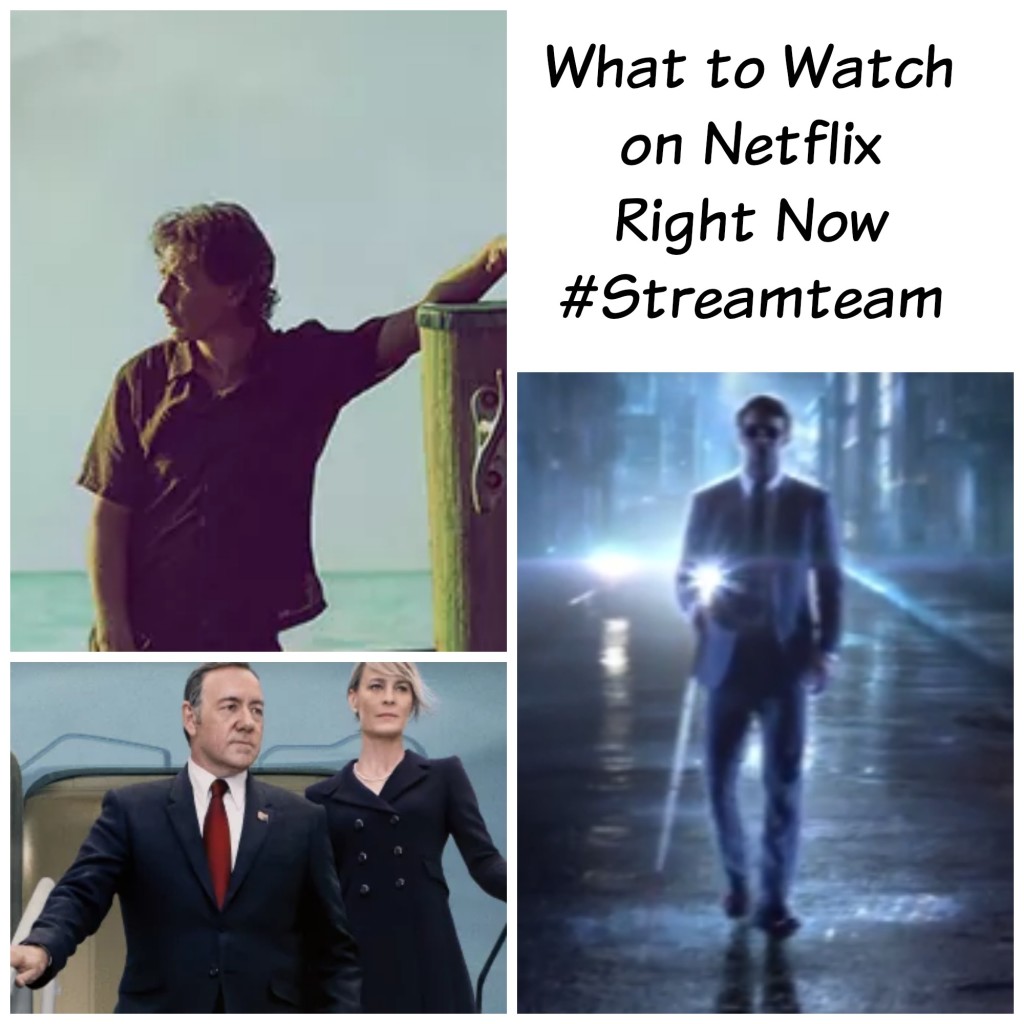 Bloodline
"Bloodline" is a dramatic thriller that explores the demons lurking beneath the surface of a contemporary American family. The Rayburns are hard-working pillars of their Florida Keys community. But when the black sheep son comes home for the 45th anniversary of his parents' hotel, he threatens to expose the Rayburns' dark secrets and shameful past, pushing his siblings to the limits of family loyalty. ~ Netflix.com
I am personally halfway through this intriguing show. It keeps you on the edge of your seat with flashbacks and flash-forwards to scenes. So far I feel like it's going to have a pretty messed up ending. You'll have to watch to see what I mean. The characters are great though, and I love the family dynamic. This is the first season of the show, so you haven't missed anything yet! Start watching Bloodline on Netflix now!

House of Cards
This Emmy-winning original thriller series stars Golden Globe winner Kevin Spacey as ruthless, cunning Congressman Francis Underwood, who will stop at nothing to conquer the halls of power in Washington D.C. His secret weapon: his gorgeous, ambitious, and equally conniving wife Claire (Golden Globe winner Robin Wright). ~ Netflix.com
Now starting on season three, this talked about series gets even crazier. I absolutely loved season one and two, and now hubby and I have just started season three. It's already started out with a bang. This political drama has some of the best acting on television today! Netflix knocked it out of the park with this series. And it's not too late to start! You will get sucked in immediately! Start watching House of Cards on Netflix now!

Marvel's Daredevil
"Marvel's Daredevil" is a live action series that follows the journey of attorney Matt Murdock, who in a tragic accident was blinded as a boy but imbued with extraordinary senses. Murdock sets up practice in his old neighborhood of Hell's Kitchen, New York where he now fights against injustice as a respected lawyer by day and masked vigilante at night. ~ Netflix.com
Another Netflix Original is Marvel's Daredevil. We have not watched it yet, but we keep hearing great things about this show. It is definitely on our "must watch" list for this next month. We will finish House of Cards and Bloodline first, and then Daredevil will be next! Can't wait! Start watching Marvel's Daredevil on Netflix now! What are you watching on Netflix right now?