Disclaimer: I was provided with tickets for the promotion and ticket giveaway of this event; however, all opinions are mine and mine alone.
WINNER OF 5 TONY AWARDS®
PETER AND THE STARCATCHER
AT THE PROVIDENCE PERFORMING ARTS CENTER
FEBRUARY 25th – MARCH 2nd, 2014
Part of the Contemporary Classics Series _________________________________________________________________________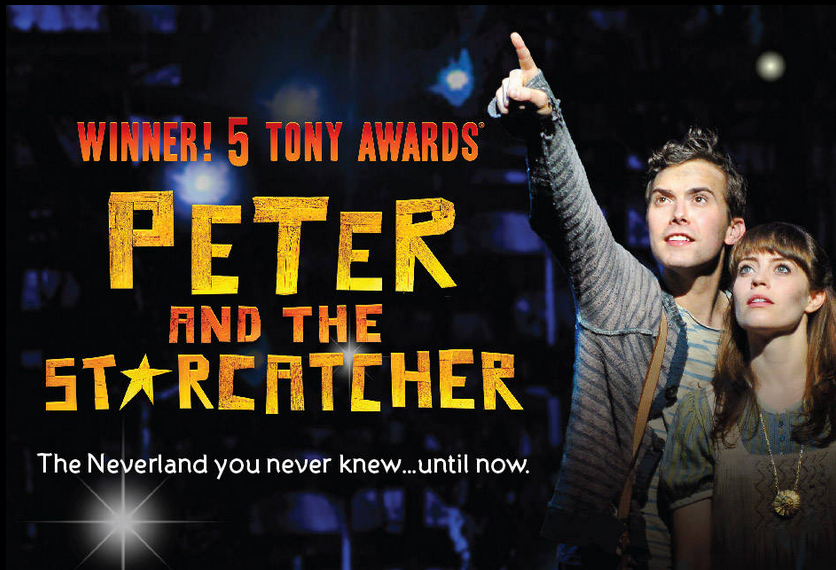 Providence, RI  –  The producers of  PETER AND THE STARCATCHER, the five-time Tony Award®-winning musical play written by Tony Award® nominee  Rick Elice  and directed  by Tony®  Award winner  Roger  Rees  and  Tony®  Award nominee  AlexTimbers,  are pleased to announce casting for the National Tour, which will be at the Providence Performing Arts Center (PPAC) February 25 – March 2, 2014.
The Wednesday, February 26, 2014 performance of PETER AND THE STARCATCHER at 7pm is Family  Night  on  Broadway.  With  the  purchase  of  a  regularly-priced  ticket, receive a FREE ticket for a child eighteen-years-old or  younger (please note:  GoldenCircle is excluded). Call the PPAC Box Office for more details and to order (401) 421-2787. PETER AND THE STARCATCHER is part of the Contemporary Classics Series. Cox is the media sponsor of PPAC's 2013/2014 Contemporary Classics Series. I know we can't wait to see it. We are huge fans of Peter Pan and are excited for this prequel.
Purchase your tickets at ppacri.org.
Show description:
PETER AND THE STARCATCHER is sure to bring you the most magical evening. It is hailed by The New York Times as "THE MOST EXHILARATING STORYTELLING ON BROADWAY IN DECADES." This musical play takes you through the Neverland you never knew. The winner of 5 Tony Awards®, this prequel to Peter Pan will have you hooked from the moment the show starts! The show is recommended for adults and students 10 and up.
Feb 25 – Mar 2 , 2014

PPAC

Fri/Sat Eves, Sat/Sun Matinees: $69, $57, $52, $42; All Others (Weekdays, Sun Eve): $59, $47, $42, $32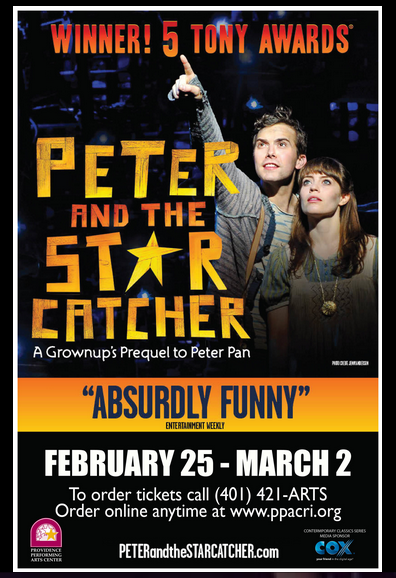 Giveaway:
To enter this giveaway of a 4-pack of tickets on Thursday, February 27th at 7:30pm, just put in the comments below who you would like to take a why! Giveaway winner will be chosen by random.org, and this giveaway is in no way associated with Facebook. Winner will be chosen at 11:59pm on February 18th. Good luck!