I participated in a campaign on behalf of Mom Central Consulting for AVEENO. I received product samples to facilitate my review and promotional item as a thank you for participating.
October is National Eczema Awareness Month, and in supporting this effort we are showing you what works in our household. My husband and son both suffer from eczema. My husband usually gets patches all over his hands. They itch and can sometimes be painful. My son gets it on his back and legs. In fact, when he was a baby he used to scratch his eczema patches until they would bleed and sometimes get infected. When searching for products that worked best, our pediatrician mentioned that we should try AVEENO®. We did and we've never gone back.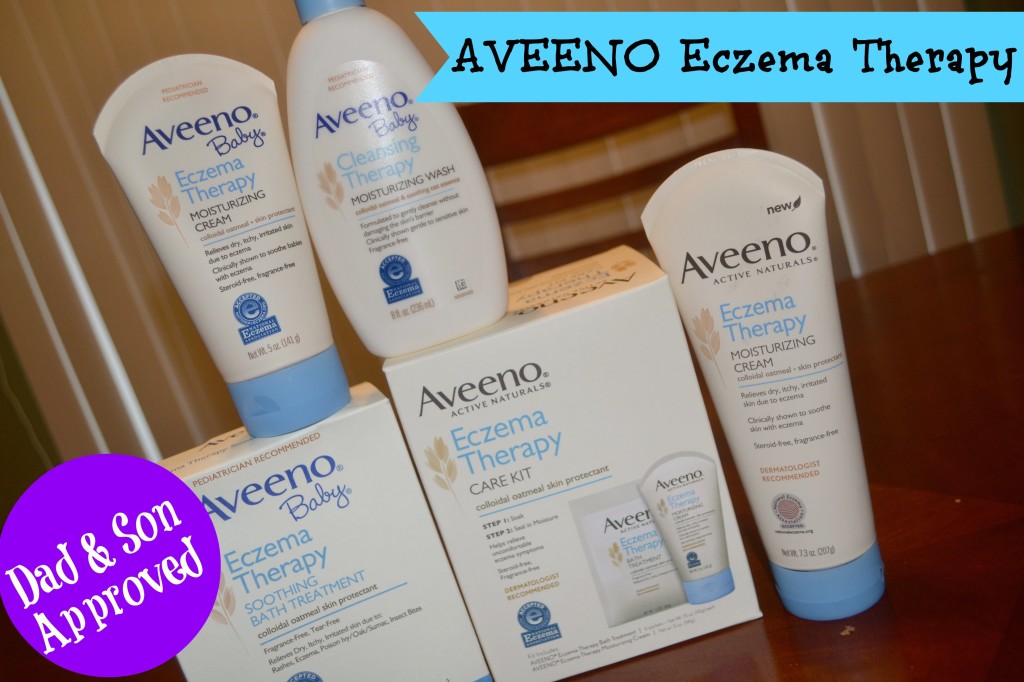 Each year as the weather gets cooler and drier out, this is the time when the eczema patches start to reappear on both my husband and son. We always make sure to have our AVEENO® products on hand. Here are some of the products we love to use that help with our eczema issues:
AVEENO® ECZEMA THERAPY MOISTURIZING CREAM – This cream is enriched with a ceramide, an essential lipid, naturally found within the skin that plays a key role in enhancing and restoring the skin's protective function. It's clinically shown to help reduce the itching and irritation of eczema. My husband loves the feel of this cream. There is no odor, and it goes on smoothly. It also helps to heal his hands and protect him from the eczema reappearing.
AVEENO® BABY ECZEMA THERAPY MOISTURIZING CREAM – This steroid free and fragrance free cream has ACTIVE NATURALS® Colloidal Oatmeal to help baby's skin with eczema. It soothes irritated skin and intensely moisturizes to help strengthen the skin's natural barrier function and helps prevent recurrence of extra-dry skin. We've used it on my son since he was a baby, and we still continue to use it as he gets older. It's always worked for him. 
OTHER AVEENO®  PRODUCTS INCLUDE: AVEENO® ECZEMA THERAPY BATH TREATMENT, AVEENO® BABY ECZEMA THERAPY SOOTHING BATH TREATMENT, AVEENO® BABY CLEANSING THERAPY MOISTURIZING WASH, and the AVEENO® ECZEMA THERAPY 
CARE KIT
As those beautiful leaves appear on the trees in New England and the cool breeze starts blowing through, these are the signs that we need to stock up on our AVEENO® products. It's important to find products that can ease the symptoms of eczema and help prevent it from returning. We found what works for our family, the AVEENO®  Eczema Therapy line, and you need to find what works best for you and your family. No one is happy when thick, dry, rough patches of skin start to itch and can get infected. That definitely does not make for a good fall and winter. Keep your family happy this season too and invest in the AVEENO®  Eczema Therapy line! We are glad we did!