One of my favorite books that I ever read had to do with climbing Mount Everest, and now I can add another book to my favorites' list that also deals with overcoming the elements and pushing yourself to achieve a goal. This one is called I Promise Not To Suffer by Gail D. Storey, and she and her husband set out to challenge themselves by hiking the Pacific Crest Trail. I actually had never even heard of this trail before reading the book, and I did not realize the popularity in completing the 2,663 mile trek up the west coast from Mexico to Canada. From reading this book, I learned about how people set-off together in groups on this six month journey together signing in at a register at the beginning of the trail and signing at the completion. Obviously, not everyone completes it, as it is a tough journey both physically and mentally. 
What I love most about this book is that it is not only a tale of Gail and her husband (Porter) who are navigating the trail, but it also shows the connection of navigating your way through life to find yourself, your relationships with others in your life, and your place in this world. Her last line of the book, "I never much cared for nature, but nature cares for us," is such a profound statement and it truly sums up the book. Gail discusses her past, coming to grips with her father's treatment of her family, her relationship with her mother, her lifestyle leading up to when she met her husband, and her focus on being in a marriage that truly works.
The book bounces back and forth from talking about her past and relationships with others, to actually enduring the harshness of hiking the trail and all the challenges that comes with being in the elements and hiking for such a long period of time. I found both parts equally interesting, as I loved learning about life on the trail and everything you do to get prepared for such a trip and how to keep your resources going. I've always wondered how people do it!
This book is touching, thoughtful, and the author writes in such a beautiful style. You can really hear her voice and connect with her! It is a nice decent read at just about 200 pages, so not too overwhelming. I really think it's a great book to pick up for those interested not only about the topic of hiking the Pacific Crest Trail, but also those that love reading about life's journey to find oneself and the pains one goes through to get there.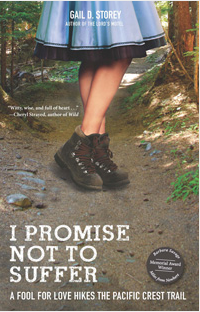 I am happy to announce to my readers that I am giving away a copy of this book along with a $10 Amazon GC! Very exciting I know!!! All you need to do is fill out the easy Rafflecopter below. You must be 18 and older to enter and US only. This giveaway is in no way associated with Facebook. Winner will be chosen on Wednesday, September 4 at 11:59pm. No mandatory entries! Do as little or as many as you like! The more you do the more chances to win! Good luck!

 I was selected for this opportunity as a member of Clever Girls Collective and the content and opinions expressed here are all my own. a Rafflecopter giveaway