I participated in a campaign on behalf of Mom Central Consulting sponsored by Publishers Clearing House. I received a product sample and promotional item as a thank you for participating. Special thanks to Publishers Clearing House for sponsoring today's discussion.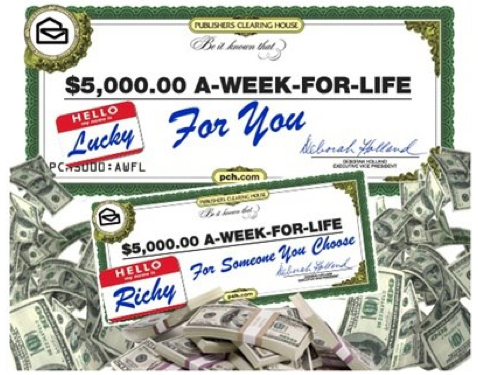 As a child, one of the best commercials on TV was the Publishers Clearing House sweepstakes where people would win giant checks delivered to their front door with a large bouquet of balloons. I always dreamed that one day people would knock on our door with a life changing check! How fun would that be to be able to buy yourself something nice, use some to help others, and save for college or something you need. What a dream come true for those that receive this great prize! I remember my parents entering this sweepstakes when I was younger. They love any kind of contest!
Well, now I am going to tell you about an amazing Publishers Clearing House Sweepstakes opportunity called "Win $5,000 A Week Forever!" It is super exciting because you can possibly win $5,000 a week for life and then after that choose someone to receive $5,000 a week for their life! WOW, right? This is an amazing sweepstakes and it will be awarded this August 2013! There was a winner last year when they had this same sweepstakes; John Wyllie of White City, Oregon won and now you have the chance to be next by entering at the Publishers Clearing House website!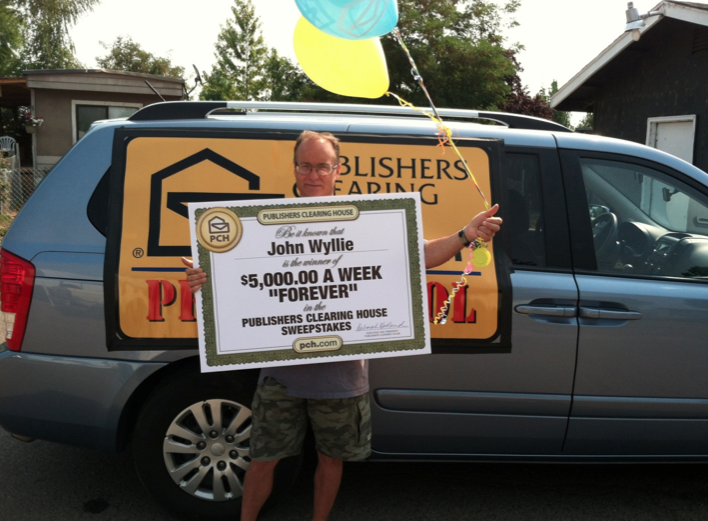 I think if I won this I would name my inheritor as my daughter. She is amazing and deserving of $5,000 a week for life and would use the money for good. I know she would use it for college, helping others, and for things she really needs (as well as sharing with her brother). It would be such a great feeling to know your children would be taken care of for life. Don't miss out on this amazing chance to enter! I am entering today! Share this post with your family and friends so they don't miss out on this opportunity to enter as well! What would YOU do with the money if you won?