This is a Sponsored post written by me on behalf of DoughMain.com for SocialSpark. All opinions are 100% mine.
I recently checked out an AWESOME website called doughmain.com. I signed-up FREE as a member, and there are SO MANY cool family organizer tools to use to organize your family. My favorite components of the the site include the calendar, the chore chart, and the allowance tracker. My husband and I have been trying to find good ways to teach our kids the responsibility of earning and keeping track of money. NO MORE just buying the kids things when they want it. They are 4 and 7 now. They need to start learning that "money does not grow on trees!"
I set-up the cool chore chart for my kids. They have their own login and can check it daily. There is a spot for them to check it off once they have completed the task. My computer is always open for them to use, so now I am just keeping this site up and available to them. Then after they chore is complete, I can give them their allowance at the end of the week and they can track it here too!
There are financial responsibility game linked to this site as well that teach kids the importance of being responsible with money. The sites are: TheFunVault.com, SandDollarCity.com and IRuleMoney.com. Each are age appropriate. Check them out under "Learning Through Play!"
The "chore chart" is our favorite so far! You can see in the picture below we set the kids up to brush their teeth, make their beds, clean-up their rooms, help set the table, and do homework. They actually think it's fun now because they can check off the chart and earn allowance.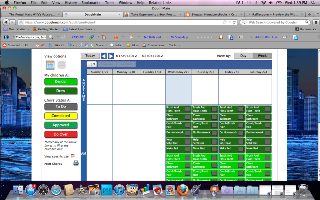 Make sure your check out this AWESOME website to help organize your family too! Signup at http://www.doughmain.com using "dough" as the reference code for a chance to win a $500 Visa gift card.